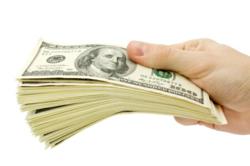 New York, NY (PRWEB) September 26, 2011
Profit Confidential, the popular stock market and economic e-letter, reports today that the correction in gold and silver prices Profit Confidential has been predicting and warning about is upon us.
According to Profit Confidential, "Last week's sell-off in most investment categories is presenting investors with opportunities. In respect to precious metals, the big correction in gold and silver prices we've been predicting and warning our readers about is on! Finally, gold's back under $1,700 an ounce. Finally, silver is back under $33.00 an ounce."
Michael Lombardi, a lead contributor to Profit Confidential, writes, "If you recognize that gold bullion has risen $397.00 an ounce in the past 12 months (31%) and investors are finally taking some profits off the table, if you believe that the world's economic problems will only get worse, that the U.S. will continue piling on the debt, that U.S. dollars will continue to be printed at a rate that spurs inflation (like we believe), then you would take this opportunity to buy more gold-related investments."
Profit Confidential, which has been published for over a decade now, has been widely recognized as predicting five major economic events over the past 10 years. In 2002, Profit Confidential started advising its readers to buy gold-related investments when gold traded under $300.00 an ounce. In 2006, it "begged" its readers to get out of the housing market...before it plunged.
Profit Confidential was among the first (back in late 2006) to predict that the U.S. economy would be in a recession by late 2007. The daily e-letter correctly predicted the crash in the stock market of 2008 and early 2009. And Profit Confidential turned bullish on stocks in March of 2009 and rode the bear market rally from a Dow Jones Industrial Average of 6,440 on March 9, 2009, to 12,876 on May 2, 2011, a gain of 99%.
To see the full article and to learn more about Profit Confidential, visit http://www.profitconfidential.com.
Profit Confidential is Lombardi Publishing Corporation's free daily investment e-letter. Written by financial gurus with over 100 years of combined investing experience, Profit Confidential analyzes and comments on the actions of the stock market, precious metals, interest rates, real estate, and the economy. Lombardi Publishing Corporation, founded in 1986, now with over one million customers in 141 countries, is one of the largest consumer information publishers in the world. For more on Lombardi, and to get the popular Profit Confidential e-letter sent to you daily, visit http://www.profitconfidential.com.
CRITICAL WARNING NUMBER SIX
Something very big will happen in America within the next 180 days. It will be more devastating than the credit crisis of 2008. For most people, it will hit them like a brick wall. We feel so strongly about this, we've decided to present our "Critical Warning Number Six" in a video. Our new video is controversial because most people will not like what we have to say. They will find it hard to believe until they see all the facts as we present them. Our first five predictions have already come true. Now we're issuing Critical Warning Number Six. We urge you to be among the first to see this new video here now.
# # #