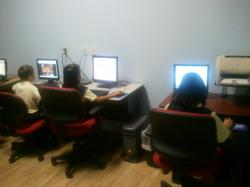 We are very grateful to Reliance Build and my PC Techs for their generous donations of equipment and time
Phoenix, AZ (PRWEB) September 27, 2011
Helping Ambassador Academy deliver better education in tough times, Reliance Build, Inc. (RBI), a full service construction company, recently donated their computer systems and equipment to create a computer lab for K-5 students. With the new lab, students and teachers can now use computers in every subject area – science, math, reading, social studies – as a resource tool for teaching and learning.
Using computers to do their studies, students learn research, typing, and computer skills and how to navigate websites. "Our children range from gifted to those with autism or speech difficulties, and all are expected to achieve high," explained Principal and Superintendent Dr. Elba I. Reyes. "We create an environment for success. But with the limited resources of a non-profit charter school, it's challenging."
When RBI decided to upgrade their computer network and technology to improve productivity, the company handling the system upgrade project, my PC Techs, asked RBI if they had any plans for the old equipment. The Academy was struggling with limited funds and too few computers to meet their needs. RBI was pleased to be able to help the school.
"We're advocates for the community and always have been," said RBI President Steve Stoaks. A family owned and run company, RBI and its employees have a history of donating materials and time to non-profit organizations. "Our philosophy is to give back as much as we can."
Testing, servicing, and installing the computers fell to my PC Techs, based in Ahwatukee. Since October 2010, my PC Techs has been donating computer repair and consulting services to the Academy. "We're always looking for creative ways to give back to the Ahwatukee community, and when asked to help the Academy, we gladly accepted," said my PC Techs President Andre Morris.
"We are very grateful to Reliance Build and my PC Techs for their generous donations of equipment and time," said Dr. Reyes. "Companies in this economy that continue to donate certainly have a heart for giving."
About Reliance Build, Inc.:
Reliance Build, Inc. (RBI) in Chandler, Arizona, is a family owned and operated general contracting and complete design-to-build services firm serving Arizona businesses for 19 years. RBI specializes in commercial site development, ground-up construction and tenant improvements for banking, healthcare, restaurant, and retail facilities. For more information, visit http://www.rbiphx.com.
About Ambassador Academy:
Ambassador Academy, established in 2007, is a publicly funded charter school located at 3810 E. Ray Rd. in Phoenix, Arizona. The school provides children in kindergarten through fifth grade a solid academic start by offering a curriculum designed to challenge students to higher levels of learning, inquiry, and leadership. For more information, visit http://www.ambassadoracademy.us.
About my PC Techs:
my PC Techs is a Phoenix, Arizona, owned and operated computer repair and IT support, training, and consulting company. They maintain and repair computers, networks, and servers for small businesses throughout the Phoenix metro area. For more information, visit http://www.myPCTechs.com. The company also provides online marketing, web design, and content writing services for small businesses throughout Arizona. For more information, visit http://www.seenbest-web-design.com.
Media Contact:
Diane Stevens
Creative Pen & Mic
480-768-7878
diane(at)creativepenandmic(dot)com
###