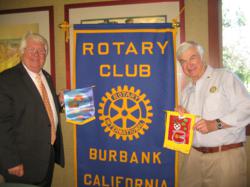 "I have never known anyone as consistently enthusiastic about Rotary as Gordon Shurtleff. I am a better Rotarian for having known him."
-- Don Yeckel, past-president of the Torrey Pines (La Jolla) club.
La Jolla, CA (PRWEB) September 27, 2011
This past summer the Burbank, CA Noon Rotary Club helped Gordon Shurtleff fulfill his first lifelong goal.
That was when the past president of the Torrey Pines (La Jolla), CA Rotary Club visited Burbank to take the final step in his journey to do make-ups at a minimum of 200 clubs around the globe.
Since becoming a member of Rotary International in 1969, Shurtleff has pursued a constant search for excellence and fresh ideas in ways to make the world a better place.
This perseverance has led him to over 2,100 meetings in 42 years of perfect attendance with the organization he calls "his other home." "I even attend meetings during the weeks my own club takes off," he laughs.
"Gordon is probably the most energetic, excited Rotarian I've ever met. He eats, breathes, and lives Rotary in every imaginable way, and energizes every room he walks into" says Will Haymaker, past-president (2002/03) of the Santa Rosa, CA club. Gordon was a member of this club for 24 years.
The Draw of Rotary
"I've known Gordon for 29 years, and the three words I'd select to describe him would be generous, enthusiastic, and authentic," says his former Santa Rosa lunch buddy Sam Saunders. "Here's a guy who actually walks the talk and has a spirit that's nothing short of contagious."
"This is all sparked by a love for Rotary," says Gordon, standing in his customized garage under an impressive display of banners from every club he's ever attended.
Over four decades Gordon and his wife (and fellow Rotarian) Penny have obviously traveled extensively, appearing at clubs in four other countries and 10 states. "Rotary International is an experience - a global organization of almost one and a quarter million members spread over 200 countries," Gordon explains, adding "they're all dedicated to the concept of service above self."
Following this creed since the organization's founding in 1905, Rotarians continuously roam the world working to eliminate hunger, drought, homelessness, and illiteracy. During 2008/09 the group received $355 million (US) in matching grants from the Bill & Melinda Gates Foundation towards their global efforts to eradicate polio.
In addition to completing the challenge provided by the Gates money, Rotary International has become the conduit for hundreds of millions in both private and government funds. All are focused on eliminating this medical scourge.
"Because of Rotary's efforts since 1985, polio has been reduced from a worldwide disaster ruining 350,000 lives annually to just 2,000 cases in four countries each year. And we're going to beat it soon!" Gordon says keenly.
"I'm just proud that Penny and I can be a part of that."
If It's Tuesday This Must Be the Rancho Bernardo Sunrise Rotary Club…
"Gordon is certainly unique" notes Rob Weinberg of the Rotary Club of Rancho Bernardo, Sunrise in San Diego, CA. Susan Zachensky-Walthall (past president of the Lawrenceville, VA club) adds to the sentiment, saying "It's hard to explain how much I love that man. He was my mentor, and because of him I now have 16 years of perfect attendance."
Gordon's widespread visibility is rare even among the most active Rotarians, who are expected to make up meetings missed at their regular clubs and to visit other clubs when traveling. This extensive networking opportunity is widely considered to be one of the major benefits of belonging to this kind of international service group.
"His generosity, knowledge and enthusiasm for all things Rotary have infected thousands of current and potential members with the true spirit of Rotary service," says Steve Olson, past-president (1994/95) of the Santa Rosa club. "Gordon's the first guy in line to volunteer money and time, participating in conferences and being there for Rotary projects large and small."
Call Him…Colorful
"Gordon is one of the most colorful characters I've ever known," says Tom Farrell of the Sebastopol (CA) Rotary. He's got a HUGE heart, is a joy to work with, and he makes everything fun. The fact is I've never met a finer human being or a guy who's a bigger character."
And according to Don Yeckel, past-president of the Torrey Pines (La Jolla) club, Gordon's done anything but mellow with age. "Over the past 27 years I have interacted with countless Rotarians in club, district, and international activities. I have never known anyone as consistently enthusiastic about Rotary as Gordon Shurtleff. He is one-of-a-kind. I am a better Rotarian for having known him," he observes.
Furthermore, while it's largely unknown to outsiders, one of the more colorful traditions of many Rotary clubs is the exchange with visitors of small banners, pennants, and flags – each customized to suit the personality of the club it represents.
Which is why Gordon Shurtleff loves visiting other clubs seeking information about their history, projects, and community outreach efforts. He shares with them the best practices of his club and others he's attended before taking their best ideas back for implementation at whichever club he currently calls his own.
"His enthusiasm for Rotary has always been just a tad short of spectacular" comments past Santa Rosa president ( 2004/05) Yale Abrams. And because of Gordon's longevity and dedication to Rotary, he's become the repository of the banners from the 200+ clubs he's attended.
Home is Where The Banners Hang
It's far from accidental that Gordon and Penny's home in La Jolla, CA, has more than a passing resemblance to the Museum of American History.
A quick tour suggests the Shurtleffs are not the shy and retiring types. From the antique (child-sized) car sporting the Coca-Cola logo to picture frames featuring Marilyn Monroe's famous Playboy photo shoot, Gordon and Penny make it abundantly clear they have big personalities and a great sense of the past. They even have a coming attraction poster for an Elvis tour and an authentic Fifties diner set up in their den, with everything in place but the girl on the roller skates.
Also rounding out their playroom's walls is a stained glass window and several mounted sport fish from s variety of fishing trips in Maine and upstate New York. And interspersed among their eclectic collections are autographed photos of Bob Hope, George Burns and other high level celebrities.
Back On The Hustings
Gordon's enthusiasm extended to the many community projects he participated in through Rotary and he recruited many of us to join him in these endeavors" remembers Abrams.
Yet La Jolla sometimes seems like a stopover, as Gordon plans every next step on his journey. "There are people I haven't met yet, and new ideas to collect," he smiles.
"Several years ago my wife and I were visiting her parents and I had a major dental problem. We stopped to make up at the San Luis Obispo Rotary Club, where I sat next to a dentist. He saw me immediately after the meeting, fixed my problem for free, and let us park our car behind his office while sightseeing. THAT is what being a Rotarian is all about!" he beams.
Skepticism might even be invited were this an isolated experience for what Weinberg calls "One of the most enthusiastic Rotarians I've ever had the pleasure to meet."
Then Gordon recalls his father in-law's heart attack while on a Mexican cruise, and subsequent admission to an Acapulco hospital. "Penny and I flew down, checked on him, and immediately sought out local Rotarians. The local club's president was a doctor who immediately reviewed the case and recommended the doctor who saved Penny's dad's life." This same club president also "loaned" the Shurtleffs one of his key staffers as a chauffeur, translator, guide and counsel.
"There's just no way you can ever repay something like that," he says, shaking his head.
Gordon Shurtleff – the Ultimate Rotarian
Gordon Shurtleff certainly knows what being a Rotarian is all about. At every club he's ever visited he's helped improve their membership recruitment efforts, fundraising, publicity, and visibility. When he learns of someone moving to another community he's the first one on the phone trying to make connections on their behalf with area Rotarians.
Gordon also figures he and Penny have formally contributed over $25,000 during their Rotary careers. This doesn't count the on-the-spot donations he's constantly reaching into his pocket for – $20 here, $50 there – that have probably amounted to another $20,000, with several thousand in the last two years alone.
"Gordon is a true Rotarian with a heart of gold," says Siranoush Tokatlian, past president of the Burbank club where history was made.
"This mission of his – attending hundreds of make-ups at clubs near and far - is a fantastic idea that captures the true essence of what Rotary is all about. Meeting Gordon and Penny is both a joy and a privilege!" she says.
"With his red jacket, big grin, generous nature, and penchant for always encouraging people, Gordon is a hard guy to miss," observes Zachensky-Walthall, to which Olson adds "If I had to pick an ambassador for Rotary, Gordie would be my choice!"
Asked what comes next Gordon smiles "Well, I just got back from the Tustin/Santa Ana Club after a visit to LA. They're a great Rotary Club. And it struck me that 250 is a nice round number…"
Look for Gordon Shurtleff to be appearing soon at a Rotary club near you.
# # #