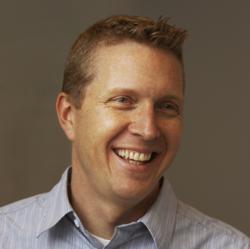 I'm pleased to have the opportunity to showcase how our team at Fluid leverages Adobe's tools to create great digital shopping experiences for customers of leading brands.
San Francisco, CA (PRWEB) September 26, 2011
Digital shopping innovator, Fluid Inc., announced that David M. Hogue, Ph.D., vice president of Experience Design, will have a significant presence at the Adobe MAX 2011 conference as a featured speaker during the five-day event highlighting how technology and artistry converge.
"I'm pleased to have the opportunity to showcase how our team at Fluid leverages Adobe's tools to create great digital shopping experiences for customers of leading brands like The North Face, Sears, Reebok, Benefit Cosmetics, VANS, and Theory," said David M. Hogue, Ph.D.
Tuesday, October 4, 1:00pm – 2:00pm, "Design Better Experiences with Fireworks by Understanding How People Think"
David will teach attendees how to turn merely adequate experiences on the web into more meaningful ones with an intelligent interface designed using Adobe Fireworks. People often complete tasks despite the fact that many interfaces seem intent on thwarting us; understanding how people perceive, think, learn, and remember can help us make better design decisions. This session will identify common UX problems, discuss how people actually think, and show how to modify the design with Fireworks to craft a better user experience.
Tuesday, October 4, 3:00pm – 4:00pm, "Case Study Session: Holistic Adobe Solutions"
In association with the Society of Digital Agencies (SoDA), David will present two case studies of Fluid projects highlighting designs for and customer experiences delivered on kiosks and tablets. He will also discuss how the Adobe tool sets enable an effective workflow for design and development across multiple devices and screens.
Wednesday, October 5, 1:30pm – 2:30pm, "I Didn't Know Fireworks Could Do That!"
During this session, David and session attendees will explore some of the lesser known yet powerful features of Adobe Fireworks, an essential design tool that operates with both vectors and bitmaps and can span the design process from wireframe to comp. If you are already comfortable with Dreamweaver, Flash Professional, and Flash Catalyst, see how Fireworks can become an integral part of your design/develop workflow.
Fluid will also be featured in a video during the Adobe MAX Keynote Address on Tuesday, October 4 at 9:00am. The conference will be held at the Los Angeles Convention Center & Nokia Theatre from October 1 - 5, 2011. The schedule for the entire conference: https://max.adobe.com/schedule/by-day/
About David M. Hogue, Ph.D.
Dave Hogue is the Vice President of Experience Design at Fluid and an adjunct faculty member at San Francisco State University, where he teaches information and interaction design. He and his team craft cutting-edge digital shopping customer experiences for the web, mobile, tablets, and kiosks. Dave is also an Adobe Community Professional, Fireworks expert, and the co-manager of the Adobe User Group Fire on the Bay.
Fluid: Digital Shopping Innovation
Fluid creates engaging customer experiences that drive conversion, satisfaction and brand loyalty. Fluid delivers these results though custom agency engagements and the Fluid Retail Experience Platform. Founded in 1998 and with offices in San Francisco and New York, Fluid's customers range from mass-market retailers to luxury goods manufacturers, and include top brands such as: Coach, Diapers.com, Nine West, Reebok, Sears, The North Face, and Vans. For more information, visit http://www.fluid.com, and follow us on Twitter @Fluid or Facebook FluidInc.
###