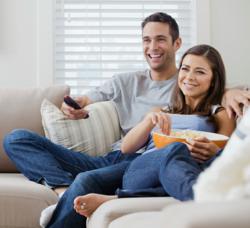 Unlike other telecommunications companies who list "cable TV packages" as a part of their services, RCN is the only one who responds to customers' interests with properly-edited packages of content in each Premiere Pod.
Philadelphia, PA (PRWEB) September 28, 2011
When it comes to premiere cable channels, Delaware County cable TV companies rarely give many options to pick and choose. Industry-wide, it's easy to find large-scale channel packaging. While that can save customers money, it also means that they often have to take the good with the bad, the channels that really interest them along with the ones that don't. Count the number of cable channels you watch. Not the ones you pay for monthly but the channels you actually view even on an occasional basis. If you're like most Americans, you spend most of your TV viewing time on a relatively small number of channels. And if you're paying for an astronomical number of channels but only watch a handful, are you really getting the most for your money or are you just paying for unused content?
All this may sound frustrating but there is actually a cable company that is getting it right, and that company is serving up HD cable TV right in Delaware County. RCN Philadelphia's latest programming advancement, Premiere Pods Packs, takes the guesswork out of subscribing to premiere cable channels in the Delaware County area. Each Pod packages genres and specialty programs into specific interest groups, meaning that sports fans don't have to take all-news channels and movie buffs don't have to take kids' cartoon networks…unless that's what they want. It's all about choice, and it's all about the customer receiving exactly what they want without all the programming they don't.
Where Philadelphia's cable TV service from RCN excels with this type of premiere channel packaging is in the Pod Pack selections. Unlike other telecommunications companies who list "cable TV packages" as a part of their services, RCN is the only one who responds to customers' interests with properly-edited packages of content in each Premiere Pod. Just as bundling RCN services—cable, home telephone and high speed Internet--in the Delaware County area saves customers time and money, this type of Pod packaging is an economical way to tailor your cable TV channels to yours and your family's entertainment needs. Customers pay for what they want, whether it's a single Premiere Pack or all four. It's all about quality in programming, and it's also about a commitment to quality in viewing and serving the community.
Those who subscribe to RCN's Philadelphia cable TV service have come to expect and appreciate the crystal-clear signal they receive, whether watching standard definition or high definition. And Delaware County's HD cable TV programming, if it's from RCN, is excellent. It's a choice left to the customer, and neither lose out with the Premiere Pod packages. Each Pod boasts a number of channels available in standard and in high definition.
Customers in Delaware County never have to miss out on premiere cable channels because of a lack of options. Movie and entertainment buffs can experience 24 standard definition channels and 3 HD, including Encore, Encore HD, Sundance Channel, as well as all the big names in music like MTV2, VH1Classic and CMTPure Country through the Premiere Movie & Entertainment Pack. For information and wholesome entertainment, families will find it all with the Premiere Family & Children Pack, which includes 15 standard definition channels and 2 HD channels, including Disney XD, Nick Jr. and Style HD. News and data gurus will find everything they need through the Premiere News & Information Pack, which, among many others, features CNN International, Bio HD, Bloomberg Television for a total of 10 standard definition channels and 5 in HD. And sports fans aren't left out with a dedicated Premiere Sports Package offering up a whopping 19 channels, 9 of which are in HD, including NFL Network, NHL HD and Outdoor Channel. These premiere channels and the way in which they are packaged by RCN means cable TV and Internet service in the Philadelphia area and the surrounding county is configured for customers, meeting all their entertainment needs.
RCN is setting a standard for premium channels, and it's convenient to many in the area. If you live in Delaware County and want premiere cable channels delivered in an easily-accessible, economical, quality manner, it's time to check out RCN. For the entire listing of Premium Pods-style Packs and for pricing, visit http://www.rcn.com/philadelphia/digital-cable-tv/digital-extras/premiere-packs
About RCN
RCN Telecom Services, LLC (http://www.rcn.com) is a privately-held competitive broadband services provider delivering all-digital and high-definition video, high-speed internet and premium phone services to residential and small-medium business customers. RCN's primary service areas include Washington, D.C., Philadelphia, Lehigh Valley (PA), New York City, Boston and Chicago.
###