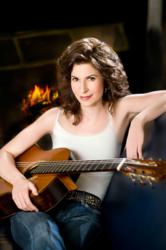 "...A mesmerizing fusion of world beat, jazz and classical...adventurous and evocative."
Oklahoma City, OK (PRWEB) September 26, 2011
http://www.rose.edu In 2001, when she became the first classical guitarist in 28 years to garner a Grammy Award, Sharon Isbin had already become a name in music.
Isbin would find herself in the possession of several Grammys, in collaborations with world-class violinist Joshua Bell, devilish rock guitarist Steven Vai, folk singer/guitarist Joan Baez, Heart guitarist Nancy Wilson, Oklahoma guitar great Michael Hedges, striking work for Martin Scorsese's Academy Award-winning "The Departed," and more. Eventually she would found the guitar department at the renowned Julliard School in New York City.
While Isbin's performances have gone into space—her soundtrack was presented to the crew of the International Space Station—her musical journey will bring her to Oklahoma's Rose State College for a special performance of a hallmark work, "Journey to the Amazon," in honor of the college's Global Oklahoma—a Festival of Cultures, which focuses on Brazil for this year.
Isbin's performance will be September 29, at 8 pm at the campus Performing Arts Theatre, the eve of the 23rd annual Global Oklahoma – a festival of cultures, featuring the country of Brazil, setting the stage for the festival's opening on Saturday, Oct. 1.
Isbin will perform "Journey to the Amazon" with Paul Winter and Thiago de Mello in a specially priced performance. For only $15, any student from any school, college or educational establishment can attend the performance. All that's required is a student ID.
From the White House to Carnegie Hall, Isbin's guitar work on "Journey to the Amazon" is described by reviewer Leo Stanley as a fascinating collaboration" that explores "South American, particularly Brazilian, rhythms and songs, devising a mesmerizing fusion of world beat, jazz and classical," which he calls "adventurous and evocative."
Following Isbin's performance, Global Oklahoma will open Oct. 1 on the Rose State campus mall, and run from 10am- 5pm. More than 60 cultures from around the world will be represented, with entertainment, cuisine and games from a variety of performers and vendors.
To purchase tickets for Isbin's performance, visit the Civic Center box office at 201 N. Walker Ave. in downtown Oklahoma City, call 405-297-2264 or 1-800-364-7111 or purchase online at http://www.myticketoffice.com. that tickets are also available for purchase at the Rose State box office beginning two hours before show time the day of the concert.
Admission to Global Oklahoma is free for the whole family, with plenty of free, convenient parking. For more information, call Lisa Price, Festival Chairperson, 736-0313 or email at lprice(at)rose(dot)edu.
###