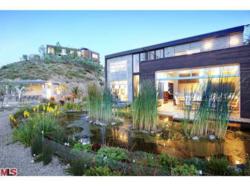 Much like his art, the home is a true reflection of technical perfection harmonized with artistic talent.
Malibu, CA (PRWEB) September 26, 2011
Prudential Malibu, Southern California's leading provider of vacation rentals and real estate services, is pleased to announce its newest property listing – the uniquely designed home of photographer, artist, and architect Douglas Busch.
It took nearly five years for the Los Angeles based artist to complete the 9700 square foot eco-friendly Malibu estate that is now for sale. With an expansive studio nearly as large as the contemporary main residence, a custom-built dog park, and a commitment to ecologically friendly design throughout, the residence can be considered one of Busch's most impressive works of art.
The main residence sits at the top of a hill with 360-degrees of Malibu coastline, canyon, and mountain vistas. Busch carefully designed details such as window placement, hardwood floors finished with nontoxic beeswax, and a section of roof that opens up to the sky – all which help to seamlessly bring the outdoors in.
The laundry room, media room, and office are located on the cantilevered floating lower level of the home, and a unique split-level library tower with elevator leads up to the main floor. The master suite features two custom-designed dressing rooms and a double shower that opens up to the intricately landscaped outdoors.
Because the residence doubled as his studio space, it reflects both Busch's distinctive aesthetic and his commitment to sustainable design. The outdoor landscaping features drought tolerant vegetation as well as exotic plants from around the world that were brought in to complete the oasis. Surrounding the artist's spacious studio is a 40,000-gallon koi and turtle pond.
Busch's on-site photography and design studio also features a kitchen and office space that opens onto the koi pond, as well as a guest living space and breezeway art gallery. As with the main residence, glass and steel windows can be opened to give passage to the outdoor space. Much like his art, the home is a true reflection of technical perfection harmonized with artistic talent.
This unique estate is listed with Amber Koepf of Prudential Malibu Realty. If you would like more information about this property, or to schedule an appointment with Amber Koepf, please call 310-779-3007.
# # #