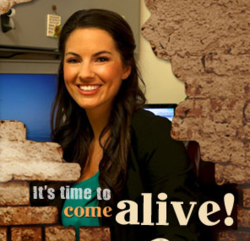 Education can truly open the world to you and make you come alive.
Staten Island, NY (PRWEB) September 26, 2011
Once upon a time, zombies were relegated to Halloween… but a new commercial and contest launching today by MyEducation.com reveals that these lifeless creatures are all around us – and you could be one of them!
"Too many people are stuck in jobs they hate," says Luciano Rammairone, chairman and president of MyEducation.com, the newest education portal from The CollegeBound Network. "The good news is that you don't have to stay there. MyEducation.com has all the resources you need to get back to school and into a career that you actually enjoy."
The ad campaign features the lifeless, directionless MyEducation Girl (a.k.a., "Zoey the Zombie"), who is stuck in a dead-end job with a group of deadbeats. But with the help of MyEducation.com, which helps connects potential students to colleges, universities, and career schools that are right for them, the zombie heroine finds the right school for her, and breathes new life into her future.
In the MyEducation.com "Come Alive" contest, launching in conjunction with the national television commercial premiere on September 26, aspiring students and career-changers are invited to join My Education Girl in the pursuit of education to create better lives for themselves. Entrants must create and upload a video of 60 seconds or less that shows how they can "Come Alive" with education – how acting on their academic dreams could change their lives for the better. The most original, creative, and popular videos will be eligible to compete for a $2,500 grand prize. Entrants can also participate in bi-monthly challenges to win a $100 American Express gift card beginning October 1, 2011. New challenges and winners will be announced on the 1st and 15th of each month through December 15, 2011. The official contest ends January 15, 2012. To enter and for complete contest rules and details, visit MyEducation.com.
"There's no reason to be stuck in a dead-end job," affirms Rammairone. "Education can truly open the world to you and make you come alive."
The campaign will also have full social media support on MyEducation.com's Twitter, Facebook, and YouTube pages.
About The CollegeBound Network
Since 1987, The CollegeBound Network (CBN) has worked with America's leading colleges, universities, and career schools in connecting learners with educational opportunities. More than 3 million surfers utilize CBN's sites, including MyEducation.com, CollegeBound.net, CollegeSurfing.com, MyGlobalEducation.com, SpaBeautySchools.com, Advanced-Degrees.com, and others. CBN specializes in recruitment lead generation solutions for 1,000+ educational institutions and 3,500 campuses using 15+ websites, robust content, a dedicated Student Services division, various social media platforms, daily blogs, etc.
###