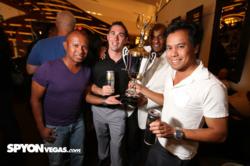 Las Vegas, Nevada (PRWEB) September 24, 2011
Team Nu Sanctuary Lounge finished runner-up at the 1st Annual Yucca Cup Las Vegas Industry Golf Tournament at Coyote Springs Golf Club on Sept. 21, 2011.
First Annual Yucca Cup Industry Golf Tournament at Coyote Springs Golf Club was put together by Joel Koester, Tournament Director. The Yucca Cup is a hospitality industry based event hosted by SpyonVegas, Sapporo and AMG. The after party was held at Social House inside Crystals in City Center.
Congratulations to Team Nu Sanctuary Lounge for finishing runner-up in this year's inaugural event. Nu Sanctuary Lounge is one of the newest hot spots in Las Vegas.
It celebrates life through food, drinks, music and hookah. From dinner thru late night, the music will have a harmonious tone providing a great vibe and atmosphere. It is located at Town Square on the south end of Las Vegas Boulevard. The Nu Sanctuary Lounge theme is the garden of Eden and a massive "tree of life" "is at the center of the restaurant." The food will take people on a culinary journey around the world with a price that will put a smile on your face.
The Nu's golf team shoot 14-under par score of 58, to finish runner up in the 1st annual Yucca Cup Las Vegas Industry Golf Tournament. The team consisted of Dr. Jeff Tordilla M.D,is a part owner at Nu. Joey Tordilla, a Nu VIP Host/ Partner at MyCitySityLV.com. Raj Jackson, Raj Jackson a Las Vegas Golf Entertainer. He is the creator of the MAKE PAR LIKE A STAR golf show. The only show in the golf industry that mixes golf instruction with comedy, skits, crowd participation,dancing and impersonations. He is available for association meeting, corporate functions, private events, celebrity tournaments, PGA Tour Events, television and film appearances.
# # #