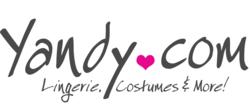 Customers are raving about these videos, saying they are helping them choose their costumes ten-fold this year and that is our main goal. Customer satisfaction.
Phoenix, AZ (PRWEB) September 23, 2011
Every Halloween, Yandy.com brings new and innovative tools for customers to utilize when shopping and 2011 is no exception with the introduction of new product videos.
For the 2011 Halloween season, Yandy took the initiative and created viewable videos of approximately 700 costumes and counting. Each video features a model walking and moving in the costume, with a complete, 360 degree view of the item. The intent is to allow customers the ability to see how a costume moves, looks and fits, something conventional online shopping does not allow.
"Some things just can't be shown in a basic image," said Chad Horstman, one of Yandy's CEO's. "We want our customers to have the best online shopping experience possible and simply viewing an image, that may have altered how the costume actually looks, just doesn't cut it."
With Yandy being an ecommerce site, customers do not have the luxury of traditional shopping methods like trying an item on, feeling the texture of a fabric and seeing the brilliance of the colors. With these new product videos, many of which have audio explaining what each costume includes or features as well as accessorizing tips, customers get to experience the closest thing to actually walking in and shopping at a store. The intent is to allow customers to not only get a complete image of what it is they are purchasing, but also to coach them on how to style it once they have purchased.
Yandy carries nearly 2,000 Halloween costumes, so to make finding which products feature the videos, a blue scrolling "Click to View Video" bar is located at the bottom of each product image.
While Yandy is still working to get as many videos on the Web site as possible before the 2011 Halloween season really picks up momentum, Horstman feels that the videos that are currently up are already making an impression.
"We have noticed a definite impact with creating these videos," said Horstman. "Customers are raving about them, saying they are helping them choose their costumes ten-fold this year and that is our main goal. Customer satisfaction."
About Yandy.com
E-commerce is on the rise and Yandy.com is one of the largest online retailers of lingerie, sexy Halloween costumes, swimwear and clothing on the web. Founded in 2003, Yandy boasts more than 6,500 products always in stock at easily affordable prices. Yandy ensures every costumer will receive a safe, secure and private online shopping experience and is backed by COMODO online security and Google Checkout. Yandy is dedicated to customer service and only sells what is in stock which allows for quick, same day shipping. Offering the highest quality products at the most affordable prices in the market, Yandy has become a leader in ecommerce on the web. Yandy works closely with all of the manufacturers they distribute for and hand select all of the items on the Web site to ensure customers have the largest and most diverse collection to choose from. In addition, the customer service team at Yandy goes unmatched. With attentive and helpful operators, should a question or problem arise, the customer service team is always willing and able to assist. At Yandy, every customer can Be Sexy.
###