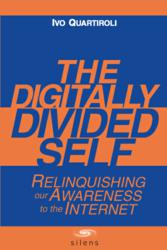 Ivo Quartiroli offers an informed critique based in both an understanding of technology and of human consciousness. —Howard Rheingold, author, The Virtual Community and Smart Mobs
Milan, Italy (PRWEB) September 29, 2011
Drawing from years of research, computer programming experience, and his own spiritual journey, Quartiroli explains how every part of our lives have been affected by the Internet and emerging digital technologies – and not always for the good.
The Digitally Divided Self explores such topics as:

What has happened to real human connections? What are the effects of the Internet and social networks on our minds and soul and how to regain control of our time and attention span?
Has technology substituted for the search for transcendence and has it become a simulation of spiritual powers?
Are we suffering from the delusion of feeding kids with technology in the hope they will be smarter and more knowledgeable?
How have sexuality and relationships been transformed with the pervasiveness of dating sites and cybersex?
Through insightful, spiritually bound, and intriguing research, Quartiroli shows that our generation is in need of a digital wake-up call, and a true return to awareness and self-awareness. It is possible to step out of the digital information loop and find true life happiness.
To learn more about The Digitally Divided Self, order a review copy, schedule an interview with the author, or to purchase the book, visit http://www.indranet.org.
"Ivo Quartiroli offers an informed critique based in both an understanding of technology and of human consciousness." —Howard Rheingold, author, The Virtual Community and Smart Mobs.
"You might find what he writes to be challenging, irritating, even blasphemous and sacrilegious. If so, he has proven his point." —Michael Wesch, Associate Professor of Digital Ethnography, Kansas State University.
"Whatever you think right now about technology, The Digitally Divided Self will challenge you to think again." —William Powers, author of the New York Times bestseller Hamlet's BlackBerry.
Book Notes: ISBN 978-88972330-0-8; 274 Pages; Published by Silens; August, 2011; 6″ x 9″ Trade paperback; $17.90
Ivo Quartiroli has been a software programmer, publisher and author of books on technology, media studies and spirituality. Complementing his accomplishments in information processing are explorations in consciousness processing. He writes for Italian magazines about technology and society and blogs on media studies, psychology and spirituality at indranet.org. He sits on the Italian Club of Budapest's science committee.
###