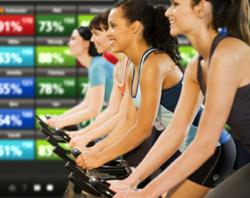 We're very pleased to bestow upon the FT4 our 2011 heart rate monitor of the year for the category of finest heart rate monitor under $100
Bozeman, MT (PRWEB) September 27, 2011
The Heart Rate Watch Company dubbed the Polar FT4 its best heart rate monitor for under $100 for the 2011 calendar year.
"The foregoing was a relatively easy decision since there are actually no other fitness watches that supply this level of features for under $100," said Rusty Squire , President of the Heart Rate Watch Company. Patented heart detecting fabric technology used in the strap significantly increases the comfort, heart touch technology permits end users to change display screens without the need of ever pushing buttons and absolutely no other company will be as effectively incorporated with the gym equipment producers.
In October Polar is bringing two exciting new colors into the FT4 family - purple and pink to the women and also black with orange for the guys. If all these brand-new styles are too racy for you then you can definitely return for the original silver and black for guys in addition to bronze for women.
Unique to Polar is a graphic zone indicator that exhibits your beats per minute on a chart and both sides within your zone as end areas on that graph. The following truly helps you remain targeted on remaining in your own specific zones and no other heart monitor for under one hundred dollars delivers this particular feature. Of course audible alerts will also help help you stay on track so there are many ways in which Polar gives you to customize the device to satisfy your preferences.
The Polar FT4 also displays your own calorie consumption instantly throughout your exercise routine and uses automated target zones which help you improve your intensity throughout the workout.
This watch is ideally suitable for exercise enthusiasts who are focused on heart rate tracking, improving their workouts and calorie counting. This heart rate monitor does not transfer exercise data to Polar's software so if that is a very important criteria you should think about the FT7.
One more thing that sets Polar apart is its two year manufacturer's warranty. Most heart rate monitors just offer a one year warranty however because Polar is a Finnish company, and a member of the EU, it provides a 2 year warranty.
Polar created the heart rate monitor back in the 1970's and this has allowed them to gain plenty of valuable feedback from personal trainers, professional athletes and customers to produce the best capabilities in the industry. Polar furthermore offers high quality video tutorials for the Polar FT4 that help end users get rolling effortlessly plus its training tools such as this that help users have a better understanding. It is this kind of commitment toward developing products that meet prospective customers desires that has truly set Polar a step above other fitness watch providers.
"We work with a number of distinct product producers however for real functions it is tough to imagine another producer which comes close to Polar in the area of heart rate devices," says Squire.
Squire says, "That is why we're very pleased to bestow upon the FT4 our 2011 heart rate monitor of the year for the category of finest heart rate monitor under one hundred dollars".
# # #