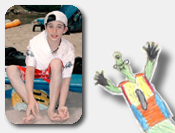 Thank you for your incredible support and for helping us toward the day we have a cure for pediatric brain tumor.
-- Stephanie Strtotbeck
Philadelphia, PA (PRWEB) September 24, 2011
Congratulations Wylies Day! As a Gold level sponsor, Wylie's Day will again be presenting a $25,000 check to the Childrens Hospital at approximately 8:15. The team will exceed 150 so come early for team pictures. The tent location may be found at http://www.parkwayrun.com. The tent is generally right across from the Four Seasons. Look for this year Wylie's Day tees – dark green, the 2011 edition.
There is still time to register to walk, just bring a check for $25! Let Stephanie know you are coming along with your t-shirt size. Email Stephani at sastrorae(at)gmail(dot)com. Runners who want to be timed will need to sign up at the registration desk in front of the Four Seasons. The schedule is as follows:
7:00-Day of Registration. Logan Circle. Please specify Wylie's Day Team.
8:00-Please be at the tent site for the team photo.
8:12-Runners will be called to the starting line.
8:15-Wylie's Day presents its check.
8:30-5K Run followed by...
8:40-2K Fun Walk.
9:20-Full breakfast served by the Four Seasons.
Race results will be announced at 9:40 and are also available online. You will have the whole day ahead of you and feel great for doing this wonderful deed.
If unable to make it down, but would like to donate to the team, please do so by following this link http://giving.chop.edu/goto/wyliesday and clicking on donate to Wylie's Day.
"Thanks everyone for everything you've done in the past, the present and the future, keep up the great work, we are proud to be associated with you all!" -- Glenn Freezman, and everyone at Family Abstract.
# # #