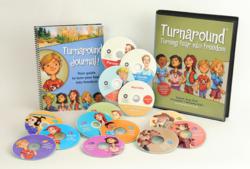 It's a completely different way of reaching these (anxious) children and making them feel ok. It's a priceless program.
Charlotte, NC (PRWEB) September 26, 2011
Turnaround: Turning Fear Into Freedom is an audio treatment program for children with anxiety. Marianne Russo, host of Coffee Klatch Special Needs Radio had a child who was very anxious and struggled for many years. When she found Turnaround, she was very impressed and thrilled that other children would not have to suffer as her child did. She states, "I'm so excited to have found a program that is really amazing for children. It's a completely different way of reaching these (anxious) children and making them feel ok. It's a priceless program." Marianne interviewed Turnaround co-creators Dr. David Russ and Christopher McCarthy about the prevalence of child anxiety in America, how to recognize the signs that your child needs additional help, and how Turnaround is an unique treatment program specifically designed to capture children's attention and give them effective strategies to overcome their fears. To hear the full radio interview, follow this link: Turnaround on Coffee Klatch Radio
Turnaround is designed for anxious children who struggle with many forms of anxiety, including Panic Attacks, Obsessive Compulsive Disorder(OCD), Generalized Anxiety Disorder, Social Phobia, and Separation Anxiety. It combines the clinically proven techniques of cognitive-behavioral therapy with the creative talents of individuals who specialize in working with children. The result is a treatment program that is both effective and entertaining.
The Turnaround Audio Program includes:
Turnaround Program for kids (10 CDs)
Turnaround Journal, a 74 page workbook for kids
Chill Kit, relaxation guide for kids (1 CD)
Parent Guide, packed full of helpful information and techniques to help parents (2 CDs), and
A bonus CD titled Med FAQs in also included. Med FAQs is an interview with nationally recognized Neuropsychiatrist, Dr. James Lee, offering a comprehensive discussion on the medications used to treat child anxiety is also included.
For additional information on the news that is the subject of this release or for a demo, contact us at info(at)myanxiouschild(dot)com or call ITR at (704) 208-4304 or (704) 293-2994 Please visit myanxiouschild.com to learn more about Turnaround: Turning Fear Into Freedom.
About Informed Therapy Resources (ITR):
Informed Therapy Resources (ITR) is dedicated to creating mental health treatment programs that are scientifically based, proven clinically effective, and professionally developed- using creative, eye-catching audio visual materials
David Russ, PhD, Psychologist
Dr. David A. Russ is President and a Licensed Practicing Psychologist of Carolinas Counseling Group in Charlotte, NC. He and his partners have built a busy practice with 11 clinicians.
Christopher T. McCarthy, MEd, Licensed Professional Counselor
Christopher McCarthy, MEd, is a Licensed Professional Counselor who specializes in treating child anxiety disorders, teen behavioral issues, parent-child relationship issues, and couple conflict. He co-owns Informed Therapy Resources and co-created Turnaround: Turning Fear Into
Contact:
Informed Therapy Resources (ITR)
e-mail: info(at)myanxiouschild(dot)com
http://www.myanxiouschild.com
###