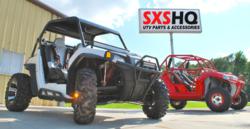 Tyler, Texas (PRWEB) September 26, 2011
Side by Side Headquarters now carries a complete line of aftermarket parts for the new 2012 Polaris Ranger RZR off-road vehicle. With 20,000 square feet of warehouse space and 2 locations, SXSHQ is the leading industry supplier of Side by Side vehicle performance parts and accessories. With a knowledgeable sales staff SXSHQ prides itself in always taking the time to work with individuals to aid them in choosing the Side by Side vehicle parts that are right for them. One advantage Side X Side HQ has over other online retailers is that it also runs a full custom shop. They not only offer installation on all of the products they carry but also build a complete line of bumpers, skid plates, roll cages and other custom fabricated side by side vehicle parts.
Whether looking for aftermarket parts and accessories for your new or used side by side UTV be sure to visit sxsheadquarters.com or call them today at 903-581-0015 to see what all they have to offer.
###