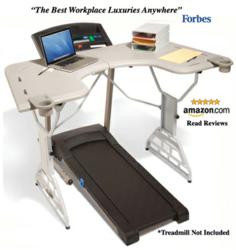 I like it a lot. I have significantly more energy in the afternoons.
Phoenix, AZ (PRWEB) September 24, 2011
TrekDesk Treadmill Desks have received favorable news reviews on national and regional radio and television stations around the country. Spotlighted for its value and health benefits by Fortune and U.S. News & World Report, new reviews from Indiana office and home users who use the TrekDesk on a daily basis have also been excellent.
J.B. of Bloomington, IN liked his TrekDesk treadmill desk so much he created a video and blogged about its benefits: "I like it a lot. I have significantly more energy in the afternoons, and while I'm not logging a ton of miles (too much travel inhibits usage), I figure 2.5 miles/day (approximately) whenever I'm home is a net positive. I can type (I wrote a blog post while on it), create presentations, do spreadsheets, and even write hand-written notes. The writing is the hardest part, but it's not a big drawback for me because nobody can read my writing even if I'm not moving. Too many years on a keyboard, I suppose."
Since the average American walks 5,000 steps per day it is important to gradually increase walking levels up to the minimum recommended 10,000 steps (set by the Surgeon General) and beyond. TrekDesk recommends adding no more than 15 minutes more walking each day initially.
"The reviews TrekDesk is receiving speaks volumes as to the effectiveness of walking while working. Our mission is to start a 'Movement Revolution', convincing Americans that movement throughout the day will dramatically improve their health, mood, weight and productivity. These reviews help ignite the conversation," stated Steve Bordley, CEO of TrekDesk.com.
Designed to fit any existing treadmill, TrekDesk is an affordable, full sized workstation that allows individuals the opportunity to gain the necessary amount of exercise daily to maintain health, prevent disease, strengthen muscles, boost mood and productivity, without requiring additional time during the day or extra motivation.
TrekDesk is currently available for sale online at TrekDesk.com for $479.00 including free shipping.
Join the TrekDesk "Movement Revolution" to learn more on TrekDesk's Facebook page.
# # #