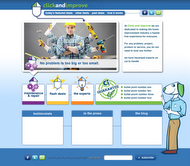 "The industry we serve is one of the few remaining multi-billion dollar industries (home improvement) that is still lacking a significant web presenceClickandimprove.com team feel that there is a tremendous growth opportunity in online home improvement."
New York, NY (PRWEB) September 26, 2011
The home improvement revolution is here and starting, where else, but New York City. Meet the newest online home improvement service center, ClickandImprove.com, where home and apartment owners can tackle their home improvements and repairs with an easy to use system of needs identification to solution, yielding delivery of a pre-screened contractor. Best of all, it's all done from the comfort of the customer's home, hassle free and minus salesmen.
The idea for http://www.Clickandimprove.com was born in 2010 by three home improvement professionals, Jesse Friedman, Avi Zikry and Alex Ushyarov, who have been running a successful home improvement service business in College Point, Queens for five years. Realizing that their audience could save time and money by purchasing these services online, the team developed a solid business model and related site (set to fully launch on October 15, 2011) that will offer everything that even the most skeptical homeowner could ever need. The team, which has managed thousands of home improvement projects, and has kept their ear pressed firmly to the ground of the industry, saw a strong need for real regulation in the management of the contractor process online in an industry that lacks any true online presence:
"The industry we serve is one of the few remaining multi-billion dollar industries (home improvement) that is still lacking a significant web presence. While there seems to be some transition onto the web (i.e. servicemagic, angieslist), it is still in its infant stages. We here at the Clickandimprove.com team feel that there is a tremendous growth opportunity in online home improvement services.
One of the fundamental problems with the industry is the need for a seamless and uniform business model, one where prices and fixes to problems don't vary based on how good the salesperson is or how uninformed the homeowner is. This industry is frightening to most homeowners who are not familiar with the products or solutions that they are being offered, and they are almost always reliant on a salesperson or a referral that they have received to service their job. This leaves the homeowner exposed to multiple price manipulations. In a day and age where a homeowner can purchase nearly everything online and easily compare prices, this is still an industry where purchasing and pricing a solution is lacking any presence online. Homeowners are always working to improve their homes, whether it is for comfort and design or for the sake of increasing property value. Now we believe they will have the opportunity of doing it all from the comfort of their home, just like buying flowers or groceries!"
-Jesse Friedman, Co-Founder, Clickandimprove.com
Unlike contractor listing sites such as Servicemagic.com or Angieslist.com, Clickandimprove.com takes on any and all risks associated issues with contractors by providing to its customers the following benefits:

Escrow account (funds are not paid to installer until job is completed, and certificate is signed by homeowner)
Satisfaction guaranteed
Pre-screened installers/contractors (BBB, licensing, peer reviews and testimonials)
One-year labor and material warranty
The Clickandimprove.com user experience is unique to the home improvement industry. Instead of providing contractors "leads", which result in harassing phone calls and e-mails to the homeowner, the Clickandimprove.com team provides the residential or commercial consumer with the ability to purchase his or her repair/service and project from the comfort of their home. Immediately after the purchase is made. The Clickandimprove.com team then manages all the logistics of scheduling and dispatching an appropriate and approved contractor/installer to complete the ordered task/service. The process has already proven successful for the executive management team in its current offline business. Bringing it online only speeds up the process and further ensures satisfaction for the homeowner.
Clickandimprove.com, as a full-service, online portal for home improvement products and services, proves to provide both residential and commercial consumers in New York City with an end-to-end solution. Homeowners and building owners can purchase products and services on discount, as well as hire a pre-screened contractor with no worries or time wasted on endless phone calls and e-mail exchanges.
In October 2011, Clickandimprove.com will launch in New York, its home base. The Clickandimprove.com executive management team is geared-up to make a national footprint within 8-12 months of site launch. Poised to be an industry leader, the Clickandimprove.com team is already showing interest in supporting the communities where it serves, beginning with entering their team in Bike MS, a charity race aimed at curing MS.
Executive team interviews are possible with advanced notice. Kindly contact press(at)clickandimprove(dot)com and we will send a formal press kit and discuss coverage.
ClickandImprove.com Online PR agency:
Agent-cy Online Marketing, Inc.
1515 Broadway
11th floor
NY, NY 10036
Contact: Jasmine Sandler
347-809-5480
jsandler(at)agent-cy(dot)com
http://www.agent-cy.com
###