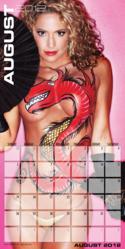 Miami, Fl (PRWEB) September 26, 2011
Jennifer Nicole Lee has done it again. She has left her so called other competitors in the dust wondering, "how did she do that?", and also has pushed the envelope in her latest Fitness Model Factory Production, her 2011-2012 16 Month Body paint calendar, entitled "My Body as My Canvas". With over 100 hours' worth of body paint time total, 15 different looks, and having to be shot by three different mega star celebrity photographers to accomplish this goal, Jennifer Nicole Lee has more than set the bar high enough that maybe possibly no one else will be able to achieve another feat such as this.
When asked how it feels to finally hold her body paint calendar in her hands, a goal she had ever since seeing the Sports Illustrated models being body painted, JNL responded "Being able to be the creative director, director, and talent in a full fledge production, produced in my own production studio The Fitness Model Factory, and seeing the vision beforehand, and now being able to physically hold it is more than a dream come true. It's like surreal. I am proud to have produced such a master piece that anyone, man or woman, young or old can get motivation from. I am blessed to have also such amazing fitness friends and fans, as well as a solid team to help my drams become a reality. But also I don't want to see another paint brush for a while. I honestly don't see how many are able to sit so still for so long while being body painted."
A special thanks goes to Jennifer Nicole Lee's solo body paint artist, Karen Taylor. JNL met Karen at her son's birthday party, where Jennifer hired a face painter and clown. Karen was painting the kids' faces, but JNL was the first to sit in Karen's chair for a star by her eye. JNL was enthralled by Karen's idea of a body paint photo, and thus an entire calendar was born.
Starting in February of 2011, and wrapping photography at the end of August, JNL was a bit drained at how long it took to get 15 different and complete looks and themes for the calendar. And then came creative layout and graphic design, which took another few weeks. In the end, JNL stated "it's so bitter sweet to see it all come to an end, but then so rewarding to see the calendar as a final completed project. My fans love it, and I always will go above and beyond for them."
To get a limited edition collector's item body paint calendar, visit http://www.ShopJNL.com
# # #