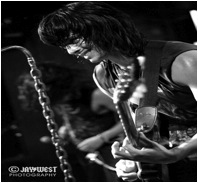 Chris is one of the most amazing gifted players in the world
Las Vegas, Nevada (PRWEB) September 25, 2011
Global Maximus Records, LLC (GMR) announced today that rising Country Music Artists "BadHorse" has added guitar phenom Chris Iorio, bringing one of the most talented guitarist in the world to the stage.
Music fans are expected to be amazed at the gifted sounds of the talented Iorio. His style of play was considered a direct match to the hungry country attitude typical of 'BadHorse' music.
"Chris is one of the most amazing and gifted players in the world, we fully anticipate him being an extremely popular figure within the band. GMR is extremely excited about his addition and we feel confident this move will bring a new improved play from the band to even greater heights," states Randall James, GMR's President-CEO
"Perfect image to enhance the product to the younger audiences in a most accepting way. We could not be more pleased with the upgrade at the lead position. We can now make a serious reach for a Grammy, the music's always been there for these guys now better marketability should push them even higher into the international country music community," James adds
The group is enjoying their third single release to radio charting similar to the previous releases which both made it to #1 on the New Music Weekly charts and high onto Music Row charts. The label has been maturing the product into a mainstream attraction with an ever-growing fan base. BadHorse is currently burning up the charts with their new hit single, "It's All Good".
"Adding Chris was a good move for us, he's a great guy, great player and understands the business side of the industry. We are very excited to play the upcoming radio tour with Chris and electrifying the crowds with his added touch," stated Adam Grant, lead singer of the group.
The group is currently taking part in a two-week radio tour starting today before heading into the studio to record material for their next CD release.
For More information about Global Maximus Records, LLC
Go to http://www.MUSICatGMR.com
For More Information about 'Badhorse'
Go to http://www.BadHorseMusic.com
GMR Media Contact:
Ava Baldwin (615) 584-6353
# # #