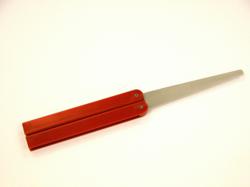 Marlborough, MA (PRWEB) September 25, 2011
This week, studio audience members at The Martha Stewart Show will receive a special gift courtesy of DMT Diamond Machining Technology. To kick off its new season, the program is featuring an episode called, "Martha Finds", which highlights some of the products that Martha and the editors of Martha Stewart Living magazine find to be the most valuable to their audience.
The episode will air on Tuesday, September 27, at 10 am (EDT) on the Hallmark Channel (http://hallmarkchannel.com/themarthastewartshow/home) and everyone in the studio audience will receive a Diamond Diafold Flat File courtesy of DMT.
Earlier this year, DMT notified the editors of Martha Stewart Living about the virtues of the Diamond Diafold Flat File. The magazine chose to feature the product in an October 2011 article where gardening editors pick their favorite tools for putting the garden to bed at the end of the season. Gardeners know it's best to clean and sharpen tools like pruners and loppers now so they are ready for next spring. DMT's Diamond Diafold Flat File is the ideal sharpener to maximize the use of gardening tools.
In April, the National Home Gardening Club awarded the Diamond Diafold Flat File its Seal of Approval for convenience, ease of use, performance and effectiveness.
DMT is recognized worldwide as the leader in diamond sharpening with its diverse product line and reputation for quality and innovation. All DMT products are proudly Made in the USA and built to last with the highest quality materials and workmanship. DMT Diamond Sharpeners work in a fraction of the time it takes with conventional stones and there are no messy oils to struggle with. A few light strokes are all that is needed. Visit http://www.dmtsharp.com for more information and purchasing, or call Customer Service at 800-666-4368.
Media Contact:
Matt Ellis
Ellis Strategies, Inc.
matt(at)ellisstrategies(dot)com
617-278-6560
About DMT Diamond Machining Technology:
DMT was founded in 1976 and manufactures a full line of diamond sharpening tools for use in woodworking, camping, fishing, hunting, outdoor and winter sports, culinary arts, gardening, police/security and industrial applications. The company has earned a HANDY Innovation Award, the National Home Gardening Club's Seal of Approval, the Handyman Club of America's Seal of Approval, seven Blade Magazine Knife Accessory of the Year Awards and an international award for innovation at Germany's International Hardware Fair. All DMT sharpeners are proudly made in the USA.
###