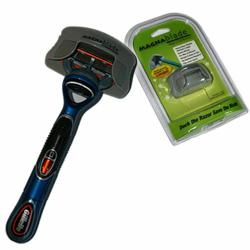 It is easy to use, inexpensive and yet so effective.
Seattle, WA (PRWEB) September 26, 2011
DNA Response, Inc., provider of multi-channel e-commerce, marketing and order management solutions, announced that it has launched Magna Blade Webstore. The new store will offer free shipping on qualifying purchases, easy one-click checkout powered by Amazon, as well as the information about the product, its features, inventor, and customer testimonials.
"We are excited and thrilled about our partnership with DNA Response", said Rick Gherman, Magna Blade inventor and CEO. "Many people are skeptical initially and unimpressed by the deceivingly simple Magna Blade design. But once they try using it and realize the incredible value this gadget offers, they become true Magna Blade fans. DNA's robust ecommerce platform and marketing services will help bring more visibility to the Magna Blade razor sharpener and allow many more consumers to save money on their shaving needs".
Magna Blade razor blade docks extend the performance of razor blades through the effect that reverse polarization has on iron molecules. Magna Blade produces a patented magnetic energy force which is embedded in its central cavity and delivers constant magnetic energy to the razor blade at the place where the blade is docked into the device. Blade molecules that are exposed to this unique magnetic force field have a greater bonding power and it prevents the most unstable molecules at the cutting edge of the blade from separating as easily and quickly. It's absolutely a phenomenon that Magna Blade uses just the power of it magnetic energy and needs no batteries or chargers. It just keeps on giving.
"This is a fantastic product", said DNA's CEO Ranjit Mulgaonkar. "It is easy to use, inexpensive and yet so effective. Magna Blade has an impressive fan base and customers who purchased the product are raving about it and use every opportunity to share their experience with friends and relatives. Our team believes this is a phenomenal invention and this is an exciting opportunity for us to create more awareness about Magna Blade and its benefits".
About Magna Blade: Magna Blade has evolved from an idea that a magnetic field positively affects iron molecules and has transformed it into an invention, a patent and a sleek working device. It became a product and a company due to its inventor's Rick Gherman great vision that by simply utilizing the natural forces he can help people save money on shaving and save the environment.
About DNA Response: DNA Response, Inc. (DNA) provides turnkey e-commerce, online marketing, and order management services to companies in the $300 Billion direct response market. DNA clients sell products direct to consumers using TV, radio, print catalogs, web and mobile as their sales channels. DNA's ECOM2TM platform utilizes state-of-the art cloud computing technologies and services to improve operational efficiency by reducing transaction costs, eliminating credit card declines, and lowering order cancellations and product returns, while simultaneously increasing online revenue for our clients. DNA provides universal order management for processing orders in real time from all the sales channels with full visibility to the business for the clients. DNA generates incremental revenues and helps build a brand for our clients by providing comprehensive e-commerce and online marketing services.
###