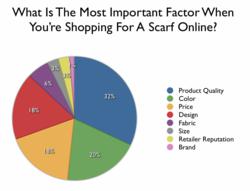 Top class photography and trusted brand names are vital in an online environment to assure the consumer that they're purchasing a high quality product
Chicago, IL (PRWEB) September 28, 2011
Very Pashmina, the online retailer of luxury cashmere scarves, pashminas, shawls and wrap has just completed a survey of scarf shoppers, their wardrobes, and their attitudes to shopping online.
What's in the closet?
Whilst the average woman had 8.96 scarves, pashminas, shawls or wraps in their wardrobe, a small percentage of women representing 11.4% of the consumer base had over 20 scarves each and some of these scarf lovers had amassed up to 39 scarves in their collection. This significant volume meant that a relatively small percentage of scarf shoppers are responsible for 34.9% of total scarf sales.
The Very Pashmina survey also revealed exactly what is in the average wardrobe. 49.9% of scarves sold are single color, 12% had 2 colors and the remaining 38.1% was made up of multi-colored scarves. The vast majority of the scarves were differentiated only through color and design, with 10.3% of scarves using embroidery and 5.2% using beading.
The paradox of selling online
Whilst the priorities of online consumers appear very similar to those of customers shopping in a bricks-and-mortar store, there is a paradox at the heart of this statement.
Customers claim that their purchase decision is influenced mainly through the standard physical attributes of the product, such as product quality 32% and color 18%, however these attributes are almost impossible to judge when shopping online.
The least influential factors were the brand of the product and the reputation of the retailer, which were considered the top priority for only 1% and 3% of consumers respectively.
This is ironic as a product's brand and a retailer's reputation are nurtured over time by providing customer satisfaction, in other words delivering upon the promise of providing a high quality product, which is what consumers says is their primary decision influencer.
"Top class photography and trusted brand names are vital in an online environment to assure the consumer that they're purchasing a high quality product," stated Very Pashmina founder, Matthew Oldham.
"In a bricks-and-mortar store one of the first things a consumer will do is touch the pashmina, to feel the softness of the fabric. Clearly this is impossible online, however many consumers who we've worked with during site usability testing have said they have a good idea how a fabric will feel just by looking at the weave within a zoom."
"Image is a proxy for product quality, hence we provide multiple shots of every product, and although there might be some variance due to the contrast and brightness of a specific screen, using a great photographer is essential to ensure that the original photos have a great color likeness."
"At Very Pashmina we also source our product from trusted brands such as the Scottish manufacturer Johnstons of Elgin and Ezma of India, who purchase their cashmere exclusively from suppliers recognized by the Cashmere & Camel Hair Institute."
About Very Pashmina, LLC
Very Pashmina, LLC is a pure play e-commerce company founded in 2010 and based in Chicago Illinois focusing on providing cashmere scarves, pashminas, shawls and wraps to women the world over. Very Pashmina is run by Matthew Oldham, a graduate of the Kellogg Northwestern School of Management with over 15 years experience in analytical marketing in major blue chip organizations.
For more information about Very Pashmina contact:
Matthew Oldham
Telephone: 847.668.1403
Email: matthewoldham(at)verypashmina(dot)com
Web: verypashmina.com
###