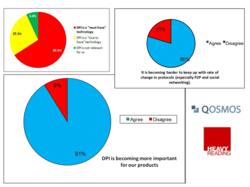 "The emergence of suppliers providing off-the-shelf DPI building blocks will change the way DPI is deployed."
- Graham Finnie, Chief Analyst, Heavy Reading
Paris, France (PRWEB) September 27, 2011
Deep Packet Inspection (DPI) is taking an increasingly strategic role in the Network Economy. The explosive volume and complexity of network traffic is making visibility more critical than ever before – and driving vendors to outsource DPI development to an emerging category of specialized DPI vendors. These are the main conclusions of a major new industry survey conducted by Heavy Reading and commissioned by Qosmos in the summer of 2011 to gauge industry plans for and opinion about the use of "embedded DPI."
DPI is a critical enabler for traffic management, security and quality of service, embedded in a wide range of software and hardware in telecommunications – and increasingly in business as well. DPI parses network traffic into application data and protocols (instructions for the data), providing the visibility required to reduce the impact of P2P and video streaming on network performance; meet the demand for personalized services; manage mobile customers' data usage; protect against viruses, spam and malware and DDoS attacks; implement new standards such as 3GPP Policy Control & Charging and comply with regulatory requirements.
The worldwide survey provides insight into the entire spectrum of vendors serving telecoms: 258 respondents represented 122 hardware and software companies. Among the key findings:

The use of DPI is ubiquitous in telecommunications. The larger the company, the more likely to find DPI technology already inside their portfolios: 80 percent of companies with revenues greater than $1B say they use DPI already; 50 percent of companies with revenues less than $50M use it today. Most of the rest were either firmly planning its use in the next 12 months or will consider it.
DPI is essential technology that will only grow in importance: Three out of four companies with revenues greater than $1Billion (and 2/3 of all respondents) consider DPI to be "must-have" technology. Fully 91 percent of all respondents agree that DPI is becoming more important to their product portfolio. With the imminent transition to 4G LTE, the requirement to develop fine-grained policies on a per-subscriber, per-service and per-application basis will become even greater, further enhancing the role of DPI and related technologies.
Technical complexity and rate of change are driving the need for specialized focus on DPI. While some vendors want to retain control over a technology widely seen as strategic, the range, complexity and speed of development of new applications, protocols and sub-protocols is increasing rapidly, and more and more of these try to disguise themselves or are mashed up into other applications—making the task of successfully identifying them more and more difficult and expensive. In the survey, 80 percent of respondents believe it is harder to keep up with the rate of change in communication protocols.
Both market and technology development cycles are speeding up, requiring continual upgrades and shorter release cycles – and accelerating the move to outsourcing in response. Among those companies already using DPI, almost 75% said it had been developed internally. Larger companies tended to do their own development, while smaller vendors were more inclined to outsource: 35% of vendors with revenues of less than $200m said they had outsourced DPI. Meanwhile, internal cost and resource constraints are increasing as competition intensifies among the vendors; 80% of respondents scored "faster time to market" 4 or 5 out of 5 in business drivers for outsourcing.
A new, specialized DPI ecosystem provides new options – and will extend the use of DPI into a wider range of applications and equipment. According to Graham Finnie, Chief Analyst at Heavy Reading, who conducted the survey, "The emergence of suppliers providing off-the-shelf DPI building blocks will change the way DPI is deployed. We believe this new ecosystem will not only make it possible to bring solutions to market faster, but will extend the use of DPI into many more network elements."
Respondents prioritized the critical capabilities in third-party DPI products as continuous support, detection and updates on protocols and applications; high speed performance (greater than 10Gbit/S) and the ability extract detailed metadata from traffic. Ease of integration and customization were the obvious selection criteria for third-party DPI products.
The survey was commissioned by Qosmos, whose Network Intelligence (NI) Technology translates raw data streams of network traffic into actionable information. Based on next-generation DPI, Qosmos software identifies the hundreds of protocols that synchronize data transmission across networks, and thousands of metadata elements that describe the information contained in IP packets (units of data). The combination of DPI and metadata extraction allows the understanding of relationships within and between the layers of network traffic for a complete picture of data's purpose, use and value. Qosmos NI Technology is embedded in a wide range of communications infrastructure and applications.
"The increasingly complex network traffic, coupled with increasing pressures on development teams to get their solutions to market, created a market need for specialized Network Intelligence Technology – a category we essentially pioneered," said Thibaut Bechetoille, president and CEO of Qosmos. "This comprehensive survey validates the growing need for more efficient approaches to product management for vendors and ensures a more secure, higher performing Network Economy for everyone."
Survey profile: More than 258 respondents representing 122 telecommunications companies

Business lines: 2/3 Equipment manufacturers; 1/3 software vendors (policy management, revenue assurance, BSS, analytics)
Revenues: 40 percent greater than $1B; 25 percent revenues less than $50M
Job functions: 45 percent product development and management; 13 percent corporate management; 34 percent sales and marketing; 8 percent operations and customer service
Geographies: 1/2 Americas; 1/3 Europe; 1/6 Asia
The full survey can be downloaded here (registration required).
About Qosmos
Qosmos specializes in unique network intelligence technology that provides unprecedented visibility into data traffic. The company delivers software development kits and intelligent IP probes which recognize thousands of protocols and metadata attributes for the most accurate picture of real-time data activity on networks. Going beyond traditional Deep Packet Inspection (DPI) technology, Qosmos treats the network as a real-time database, able to identify, query and extract specific data with unparalleled precision and detail.
Qosmos products are used by Network Equipment Providers, Software Vendors and Systems Integrators to build next-generation solutions where real-time intelligence is critical, such as cyber security, lawful interception, traffic optimization, content billing, service assurance, market research and more. They enable applications, services and networks themselves to be more secure, efficient and profitable.
###