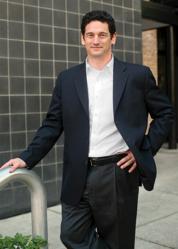 We have migrated between 150,000 to 200,000 seats to the cloud. -- Mike Gersten, CEO and co-founder of PointBridge.
Chicago, Ill. (PRWEB) September 26, 2011
As businesses of all sizes are enacting often dramatic austerity measures, it is no surprise that information technology expenses attract a good deal of attention. While IT infrastructure is vital to the daily operations of a business, needed upgrades and adoption of new technologies are often delayed.
PointBridge, a Chicago-based IT consulting agency, is seeing a dramatic shift in the way businesses are assessing their needs in these challenging times. In fact, they are seeing a potentially game-changing transformation of IT's role in business. At the heart of that transformation is a shift to cloud-based solutions.
"We have migrated between 150,000 to 200,000 seats to the cloud," said Mike Gersten, CEO and co-founder of PointBridge. "And, they all had varying motivations. Cost-cutting is certainly a motivator, but scalability, flexibility … those make the move to the cloud an easy decision for companies."
What makes this trend such a dramatic change to business is that it was not until very recently that off-premise, cloud-based solutions were even possible.
"It really wasn't until Microsoft's investment in that marketplace that the obstacles of security and scalability, which would be expected with large-enterprise-class software — have been readily available," Gersten said. "Microsoft, in essence, made the market, particularly as it relates to enterprise software. Our customers always wanted to go into the cloud. It was just those obstacles of security and scalability that had prevented them from getting there."
So, with the key barriers to entry removed and a large-scale move to the cloud underway, another trend has developed. With the ongoing maintenance of on-premise data centers and costly upgrades a thing of the past, businesses are turning their attention to strategic re-investments in technology.
"Companies are seeing that they are able to re-invest the money they are saving, and spend that money strategically," said Practice Manager Matt McGillen. "Whether it is to build a custom application or to re-invigorate their Web site, we are definitely seeing businesses use this as an opportunity to spend money on things that have a bigger impact on their users."
That is where PointBridge is able to change the direction of the conversation and engage with customers at a higher level. These conversations lead to remarkable innovations that impact each company's business in a unique way. The solutions are as unique as the businesses themselves.
"We are talking about fundamentally changing the way these customers deliver services to their users," McGillen said. "We're engaged with customers at a much higher level."
Many recent migrations to the cloud have been taking advantage of the recently released Microsoft Office 365, the cloud version of Microsoft's extremely popular business productivity suite. But, in what is becoming a familiar refrain in this new era of IT, it is not only about swapping the desktop software client for a cloud-hosted version. Companies are finding that Office 365 offers new opportunities for not only cost savings, but also increased productivity.
A recent example saw a major international corporation eliminate a very costly and time-consuming annual global meeting thanks to the toolset provided by PointBridge and Office 365. The meeting was replaced with an online conference that allowed the company's key personnel from around the globe to connect and focus on their strategic needs, rather than travel logistics.
"The feedback was that they felt, in some cases, they better connected with people than they would have in person," said David Greve, professional services manager. "They saved travel costs globally, and saved paper, IT costs in organizing, and much more."
While these day-to-day changes to the way businesses operate resonate with IT directors and end users, the higher-level discussions perhaps have an even larger impact. In particular, businesses looking at potential mergers and acquisitions have also seen a major change to their analysis of a move as the prospect of joining large groups of employees no longer needs to involve complicated data migrations.
"One client was having us put them into the cloud to ready themselves to be acquired. And, for the other, we were putting a portion of their organization into the cloud to ready them for integrating potential acquisition targets," Gersten said.
For PointBridge, these aspects of cloud-based IT solutions offer a nearly endless opportunity for providing customized solutions tailored to each business.
"Through these fundamental shifts, people no longer just see IT as a cost center — a necessary evil," McGillen said. "You can minimize the cost on the traditional things and use the savings to develop a smartphone app so your customers can make purchases online. Suddenly IT becomes a profit center."
To read more about PointBridge and its cloud innovations, visit: online.wsj.com/ad/cloudinnovators.
###