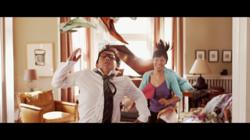 "As designers, part of our process is to make unique connections between things that aren't obvious and taking creative ideas to the next level. That is what the IMS Film Showcase is all about and it's fun," said Lisa Peck, owner of LiLu Interiors
Minneapolis, MN (PRWEB) September 25, 2011
Six short films by locally grown, nationally known directors will premiere to the public on Thursday September 29th, 2011 at International Market Square in Minneapolis, MN. The films from IMS Films represent a number of genres including love stories, dramas, action and horror. (More info)
This free event is sponsored by LiLu Interiors AIA Minnesota, KDR Showrooms, A&E casting, Doncaster, Intersource, IFP media arts, Flaunt Art Design, MN FilmTV.
The goal of the IMS Films Showcase is to re-introduce design in a way never seen before through film, and inspire as wide an audience as possible to consider design in their own lives.
Attend
The schedule for the Showcase is as follows:
7:00 – 8:00 – SPECIAL SCREENINGS
Visit hosting showrooms to view films in luxurious comfort.
8:00 – 8:30 – COCKTAIL MIXER
Mingle with other guests in the LiLu Lounge.
8:30 – 10:00 – RED CARPET AWARDS CEREMONY
Hosted by local broadcasting icon, Robyne Robinson.
                                  
AIA Scholarship Award
COUCH IN MOTION directed by Jason Ho
LiLu Interiors Art Direction Award
LOVE STORY directed by Mick Uzendoski
Award for Best Actress
PERFECT FIT directed by Quan Hoang
Award for Best Actor
ON THE INSIDE directed by Mark Har
Award for Best IMS Actor/Actress
ZOMBIE CHIC directed by Todd Cobery
Award for Best Director
SUPER DESIGNERS directed by Quan Hoang
Award for Best Film
Q&A with cast and directors
"As designers, part of our process is to make unique connections between things that aren't obvious and taking creative ideas to the next level. That is what the IMS Film Showcase is all about and it's fun," said Lisa Peck, owner of LiLu Interiors. As a major sponsor of the event, the LiLu Art Direction Award is named after Lisa's company, "Art Direction of a film is one of the key elements that helps evoke emotion in the audience. At LiLu interiors we design spaces that evoke emotion. That connection is the reason LiLu is proud to award the winner for Art Direction."
# # #