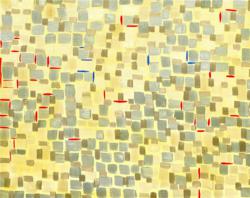 Having someone incorporate my art in a first cabin show where it can be seen by millions is most gratifying.
Lake Arrowhead, CA (PRWEB) September 26, 2011
Rod Jones, the artist that is known for creating the style Receptive Abstract Patternism©, announced today that one of his paintings was selected by Hall of Fame Inductee Set Designer Beth Kushnick for CBS's hit series The Good Wife. The 7 time Emmy® nominated show - with an Emmy® win for Julianna Margulies for Outstanding Lead Actress in a Drama Series, began its new season on Sunday, September 25, 2011.
The Good Wife has an estimated viewing audience of over 13.3 million viewers. It doesn't get much better for an artist to have that many potential impressions of a piece of museum quality abstract art.
Rod Jones Artist has had other exposure but this venue to showcase his work really wasn't expected. Beth Kushnick is a highly respected set designer with impeccable taste, and fortunately for Rod she recognized quality and impactful art when she saw it in Rod's work.
"Having someone incorporate my art in a first cabin show where it can be seen by millions is most gratifying. It's especially exciting when you can tell your family, friends, collectors and curators that a piece of your art was selected for television show", stated Rod Jones.
Rod has only pursued art over the last few years. Prior to that he was successful Commercial Photographer shooting everything from product shots to high fashion. The desire to make the formal shift into painting was triggered by his deep knowledge of color, composition and light. On one of his photo shoots he photographed Françoise Gilot and her husband Jonas Salk. Françoise was a true inspiration to him.
Now that Rod's work has been featured on such a prestigious show he admits enjoying the creative process of working with set designers on a television & film format. He feels that it is important for the television and film community to include artists in their creative process to expose millions of people to the intimacy of art.
Those interested in learning more about Rod Jones the Artist and his unique style. Should visit his website at http://www.rodjonesartist.com and for additional insight and art commentary read his blog http://rodjonesartistblog.com.
###