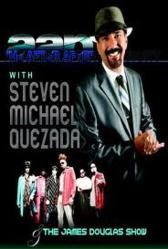 "We are thrilled and honored to have this show take place in our own back yard," said Steven.
Los Angeles, CA (PRWEB) September 27, 2011
The CW Network brings back "The After After Party," a late-night talk show to its new night, Saturday at 2:00 am, hosted by veteran comedian/actor Steven Michael Quezada, who plays the DEA Agent Steven Gomez on "Breaking Bad" which is currently in its fourth season on AMC. The show premiered in Albuquerque, New Mexico on December 3, 2010 with a slew of celebrity guest such as, Bryan Cranston, Giancarlo Esposito, & Dean Norris, and has earned the number 1 rating on The CW Network for its time slot. They are currently in their second season and voted as the best late-night TV show by Albuquerque The Magazine in their up-coming October issue. The show recently signed on with a Los Angeles-based worldwide distribution company Film Works Entertainment, and will begin airing internationally.
"We are thrilled and honored to have this show take place in our own back yard," said Steven, who is also one of the executive producers along with his partners Mark Padilla and Marco Nunez. "We couldn't see it happening any place else, Albuquerque is our home and we like to share the ethnicity that it brings. From music, food, people; you name it, we want all to experience it" stated Steven.
The After After Party side-kick is six times Grammy nominated music phenomenon, "The James Douglas Show," quoted as being the hardest working band out of Albuquerque by New Mexico Magazine. A pioneering band in genres of alternative soul and funk, The James Douglas Show adds that special element that keeps the show rocking with its live audience. For tickets, guest information or to learn more about the show, you can visit http://theafterafterparty.com
In addition, to Steven's successful career as an actor, he is one of the most noted comedians out of the southwest, touring comedy clubs across the United States since 1987. He is a five time recipient of the New Mexico Hispanic Comedian of the Year Award, and he has appeared on HBO, Showtime, the Latino comedy feature Quo Locos and was recently hand-selected to open for Saturday Night Live alumnus and movie actor Rob Schneider at his concert in Albuquerque.
###