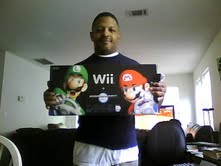 "Luck favors the prepared," said Abdul Humes, of Douglasville, GA, who scored a Wii as last month's big winner.
(PRWEB) September 26, 2011
New website gears up for its next big giveaway on Oct. 1. Previous prizes include an iPad 2 and a Wii, plus daily Amazon gift cards.
First it was an iPad. Then it was a Wii. What will FeedYourFrenzy.com give away next?
The innovative website, which serves up daily and monthly prizes sweepstakes-style, will hand out its big monthly jackpot later this week. As of press time, the Oct. 1 prize was a portable dvd player.
But, because FeedYourFrenzy.com is a reward site unlike any other, no one knows just how big the jackpot can become!
Here is the twist: As the frenzy builds, so do the prizes. The more entries there are, the bigger the prize. For example, if the monthly prizes starts as a $100 Amazon gift card, it could end as a Lexus SUV!
September's winner, Abdul Humes, employed a zen-like strategy as he watched as the prize grow – from a $100 Amazon gift card to a portable dvd player, then to a Kindle, and eventually into a Wii game console.
"Luck favors the prepared," said Humes, of Douglasville, GA.
Humes was thrilled with the outcome. Since it launched on June 30, FeedYourFrenzy.com has been making members happy by doling out daily winnings. Its 30,000 members can enter their choice of daily and monthly prize draws using points earned through referring friends; completing offers like surveys and free trials; posting to the Facebook page; following on Twitter; completing real-world missions; and more. Daily prizes are Amazon gift cards, which start at $5 and increase in value as more members enter.
A recent daily winner couldn't believe his good fortune, or how easy it was to win.
"I was like, yeah right, I won't win," said Travis Ogden, of Ionia, MI. "Then all of the sudden I checked my email and I saw that I won! I was happy."
In three short months, the website has awarded about 100 Amazon gift cards, two iPad 2s and a Wii. The very first monthly winner snagged herself an iPad 2 by merely signing up for her free account, earning herself 10 points, and liking the FeedYourFrenzy page on Facebook for another 10 points. Before she knew it, Amy Glover, of Rainsville, AL, scored a brand new iPad 2.
Winners are notified via email and are announced on FeedYourFrenzy.com's Facebook page and Twitter feed. FeedYourFrenzy.com partners with Random.org, the most trusted name in random prize draws, to guarantee that the drawings are 100% fair and truly random.
As if that wasn't enough, FeedYourFrenzy members earn Amazon gift cards along the way – in addition to the daily and monthly drawings. Once a member accrues 500 points, they earn a $5 Amazon gift card. At the next threshold, the member will earn a $10 gift card, then a $25 gift card, and so on. This is independent of whether the members use the points to enter in the drawings.
Member Patricia King believes ther nothing to lose and much to gain by signing up for FeedYourFrenzy.com.
"I wasn't sure when I signed up if this was for real. I never expected to win anything," said King, of Newport News, VA. "Thanks FeedYourFrenzy!"
For more information, go to http://www.feedyourfrenzy.com
# # #