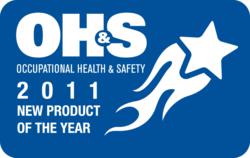 This award is particularly significant to Smart Lid Systems as the judges determination is based on SAFETY innovation
Dallas, TX (PRWEB) September 27, 2011
The Smart Lid, a disposable color changing coffee lid, has won the Occupational Health & Safety 2011 New Product of the Year Award.
The Smart Lid won the OH&S 2011 New Product of the Year for its category of 'Food Safety'. The awards were hosted by the Occupational Health & Safety Magazine, the world's largest journal of its kind, with a monthly circulation of over 80,000.
The Smart Lid is the only hot beverage packaging to offer a visual indication of the contents, changing in color from a dark color to a bright red with the application of heat. With the significant selling benefit of showing those who first pick up the hot beverage whether or not the lid is securely attached properly to the cup.
"Receiving this level of recognition within the USA occupational safety industry is huge news for an Australian company. This award is particularly significant to Smart Lid Systems as the judges determination is based on SAFETY innovation", said Nick Bayss, Managing Director of Smart Lid Systems. " We have also implemented a high definition video stream on our website to project these safety features."
The Smart Lid was recently included by the Australian Government into the 'Australian Technology Showcase' (ATS). The ATS program identifies innovative, market ready Australian technologies with global market potential, with the aim of showcasing the product to local and international markets.
Mr Bayss added, "our company offers the safest delivery method of hot beverages, not just for coffee drinkers, but also for the nearly 13 million employees in the hospitality industry in the USA. The OH&S recognition is very timely as September is National Food Safety Education Month in the USA."
All category winners will be presented with their trophies during the National Safety Council Congress & Expo in Philadelphia in late October. The OH&S Magazine will be featuring coverage of the winning products in their December issue.
About Smart Lid Systems:
Smart Lid Systems is a multi-award winning Sydney based product development company who for the past 10 years have been collaborating with Australia's largest foodservice plastics manufacturer to research and develop a disposable color changing coffee lid.
The Smart Lid is manufactured with PS, is FDA & EU Direct food-contact compliant, Bisphenol A (BPA) Free, CFC Free, carries a Recycle '6' Symbol, and is manufactured in a HACCP and ISO 9001:2000 certified production facility.
Smart Lid Systems is a member of The Specialty Coffee Association of the America (SCAA), The Association for Convenience and Fuels Retailing (NACS), and the Australian Technology Showcase (ATS).
Contact Details:
Nick Bayss
Managing Director
Smart Lid Systems
Tel: +614 0348 5858
nick(at)smartlid(dot)com
twitter.com/smartlid
# # #