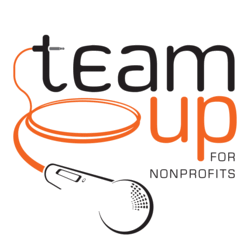 Through September 30, 2011, Washington State-based nonprofit organizations can apply to partner with Team Up for its 2012 Gigs4Good series.
Seattle, WA (PRWEB) September 26, 2011
Team Up for Nonprofits announced today that it will be closing the nomination process for nonprofit organizations to apply for 2012 Gigs4Good partnership events on Friday, September 30, 2011. The process is open to all Washington state-based nonprofit organizations.
Team Up's mission is to build capacity for nonprofits by cultivating a new generation of engaged supporters through the power of music and social media. Its Gigs4Good series is designed to raise funds and awareness for nonprofits and to provide an entertaining and accessible opportunity for people to support organizations that are making a difference in our communities.
Team Up for Nonprofits Founder and President Ryan Hodgson said, "It's a pretty simple, yet thoughtful, approach: with Team Up fans buy the tickets, Team Up brings the music and sponsorships, while nonprofits get the money!"
Team Up offers organizations opportunities with shared networks, sponsorships, public awareness and growing long-term supporters with Seattle's most connected taste-makers.
Organizations can apply for the 2012 Gigs4Good series online at http://bit.ly/nLhHVp or via http://www.teamupfornonprofits.org.
To be eligible for the Team Up for the 2012 Gigs4Good series, organizations must be Washington-state based nonprofits (they can serve communities/individuals outside of Washington State). Other key criteria includes:

A passionate, engaged nonprofit who is excited about partnering with Team Up
Organizations who can actively participate in ticket sales and event promotion.
Organizations who have a strong need for funds. Team Up evaluates programs and causes when selecting nonprofit partners.
Nonprofits with an active supporter base. Regardless of age and other demographics, Team Up wants a partner with a loyal following.
Social media savvy. Team Up is a very social media driven organization and wants to work with other nonprofits who understand this key, emerging channel.
Team Up will be reviewing applications after September 30, 2011 and will notify organizations in December 2011.
Team Up for Nonprofits can be found on Twitter (http://www.twitter.com/TeamUp4NonProf) or Facebook (http://www.facebook.com/teamupfornonprofits).
Team Up will also organize events for emergency support that are not chosen through the formal application process, depending on needs.
###