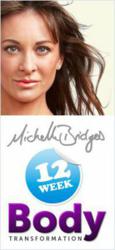 To be able to offer Huggies members a tailor-made program by one of Australia's best known fitness celebrities is something we're very excited about
(PRWEB) September 27, 2011
Huggies Australia and celebrity fitness guru, Michelle Bridges have partnered to release the successful 12 Week Body Transformation (12WBT) program tailored specifically to pregnant women and mums with young bubs looking to get fit and healthy and lose a bit of weight.
The specially designed program will be open exclusively to Huggies Baby Club members and includes nutrition plans, workout plans that you can do anywhere, weekly mindset videos from Michelle and more.
Huggies members can sign up for the 12 Week Body Transformation online, with the program commencing on 26th September 2011. Starting on the same date means all Huggies Club members are 'in it together' and are able to offer support and encouragement to each other within the 12WBT forums.
For less than a cup of coffee a day, participants gain access to a program hand crafted by one of Australia's leading personal trainers, best known for her success on The Biggest Loser television series. At $199 for the full 12 week program, it's cheaper than most gyms and offers members the following features:

Nutrition plans and shopping lists
Workout plans that don't require a gym membership
Motivational and informational weekly videos from Michelle Bridges
Support, encouragement and discussion with other members within the Huggies forum
Low cost fitness and weight loss solution
The knowledge to achieve long term results
Exercise when it fits into your routine
Convenient online access to all materials
The first 500 Huggies members to sign up to the 12 Week Body Transformation program will receive a copy of 'Crunch Time' – Michelle's book on fitness and health, full of tasty and nutritious recipes. All members will go into the draw to win the 'get healthy super prize', which will see one lucky winner will receive lots of prizes and have their program paid for by Huggies and become the Huggies guest blogger.
Huggies Australia Digital Strategy and Community Manager, Lia Liaros, is thrilled about the partnership with Michelle Bridges; "Huggies is all about providing real support to mums and mums-to-be. To be able to offer Huggies members a tailor-made program by one of Australia's best known fitness celebrities is something we're very excited about," she said.
Huggies is Australia's leading supplier of nappies as well as an online resource for baby care, fertility, pregnancy and parenting information.
###