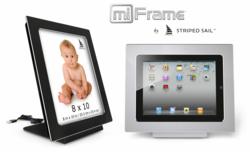 The miFrame adds the key elements necessary to transform the iPad into the world's greatest digital picture frame.
Chicago, IL (PRWEB) September 27, 2011
Striped Sail™ today introduced the miFrame Picture Frame Docking Station for iPad 2, a companion accessory for individuals who enjoy sharing their photos. miFrame™ extends and enriches the iPad photo viewing experience. Placing iPad into miFrame ("my-frame"), stylishly frames picture slideshows in portrait or landscape, all while charging iPad.
"We grew up with our most cherished pictures in frames. The frame creates a window into our memories, removes the distractions that surround the image, and focuses our eye on what's most important. We designed miFrame to recreate that classic experience with an iPad." co-designer Robb Hughes said. "The iPad has great potential as a picture display device – it has a top-notch screen and great slideshow software built-in. The miFrame adds the key elements necessary to transform the iPad into the world's greatest digital picture frame, namely: recharging, a frame to focus the eye, and the ability to display iPad in portrait and landscape."
Stay Up To Date and Tell a Story
iPad connects with all the photo sharing and social media networks: Facebook, Twitter, Instagram, etc. Now, it's possible to smile at a sibling's new baby pics, giggle at a friend's funny face, or celebrate a buddy finishing the marathon in real-time. The miFrame with iPad is great for displaying these social slideshows at home throughout the day. Additionally, custom slideshows can be made for dinner parties, weddings, holidays, birthdays, or other special events.
Doubles As An 8x10 Picture Frame
miFrame always is a positive space in a room. When iPad is not docked in miFrame, an 8x10 printed photograph is displayed. The printed photograph that the user chooses sits behind iPad only to be revealed when iPad is removed. This feature ensures that miFrame accentuates a room with or without iPad.
Effortless Charging At Up To 5 Feet Away
The miFrame base guides the attached 5 foot USB cable for clutter-free cable management. This extra long cable makes it easy to place miFrame on a table, a desk, or a nightstand and connect to the 10W Apple Power Adapter, included with iPad, for charging.
Easily Interact With The iPad Touch Screen in Portrait or Landscape
With miFrame there is unobstructed access to the iPad multi-touch screen and audio can be heard loud and clear. The miFrame cradle can be rotated between portrait and landscape for optimal viewing of any app.
Precision Craftsmanship
Each aircraft grade aluminum frame and base is precision machined to tolerances of less than 5 thousandths of an inch, then subjected to an 8 hour, 17 step finishing process. Every step is necessary to achieve the designer look that iPad owners appreciate.
Sturdy and Furniture Friendly
miFrame sports a wide sturdy base to prevent tipping and soft pressure-sensitive rubber feet to prevent sliding and protect furniture.
A Great Value
miFrame replaces the purchase of an iPad stand, an iPad dock, an extra long USB cable, and even a premium 8x10 picture frame. Purchasing those accessories separately costs well over $100. miFrame does all this in a compact stylish design for as little as $79.
Availability
miFrame is available in silver and black from the online Striped Sail Store and at Amazon. It usually ships within 24 hours. The product is custom made for the original iPad and the iPad 2.
About Striped Sail
Striped Sail Ltd. is a small, virtual company founded in 2010, with a passion for designing innovative products that enrich digital photography. The company is backed by Serra Capital.
miFrame and Striped Sail are trademarks of Striped Sail Ltd. Apple and iPad are trademarks of Apple Inc., registered in the U.S. and other countries.
Media Contact:
Josh Weinberg
media(at)stripedsail(dot)com
415-777-3339
###