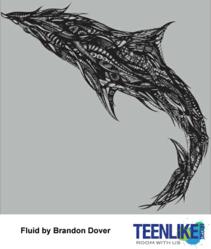 I hadn't really thought about it too much until I stumbled upon Teenlike on Twitter, investigated what it was all about, and then looked at my own plain bedspread and thought "Whoa! So true!"
Chicago, IL (PRWEB) September 26, 2011
Teenlike.com, Inc. announces the second winner of its design competition, a very exciting time for the winning designer. Teenlike member Braniel's work was chosen based on the final score and comments from the Teenlike community. The winner, who's real name is Brandon Dover of Apple Valley, California, took some time out to talk about his exciting experience.
Brandon, whose style of art is Abstract Pen and Inkwork, began drawing when he was a young boy, but his love for art grew more during middle school, after seeing a friend draw using ink. After entering T-shirt design competitions, he searched for more design opportunities, when he discovered Teenlike. He admits the idea of a design competition for home decor didn't instantly come to mind. "I hadn't really thought about it too much until I stumbled upon Teenlike on Twitter, investigated what it was all about, and then looked at my own plain bedspread and thought "Whoa! So true!"," says Dover. "I thought it was an excellent idea and anxiously awaited for the competition to start. I was trying to think of a design that would look great and resonated what Teenlike was all about and then I thought, 'Fluid!'"
"Fluid" is the winning design Brandon created for the competition, and the positive response he received from community members earned him a cash prize of $500. "I felt Fluid would appeal to teens because of how free it is," Dover explained. "Its sense of "fluid" movement and abstractness sort of gives off the vibe of "breaking free" from the norm. It's something a bit wild and different, just like us teens (or young people), yet beautiful and right." As for his view on why most teens aren't interested in products like bedding? "I personally believe teenagers have long been uninterested because they haven't ever really had a choice," says Dover. "They have always had to pick from the same old bland designs at the stores and what have you. Until now though!"
Brandon is optimistic that the company can make home decor trendy for the teen room. "Teenlike is giving them a chance to have something unique and more "them" that they can cover on that huge canvas that's in their room known as a bed," says Dover. "It will be a whole new opportunity for them to resonate their 'self-expression'."
About Teenlike
Teenlike is an ongoing, online home decor design competition, where winning designs are printed on home decor products, including bedding and rugs.
For more information, visit http://www.teenlike.com
# # #