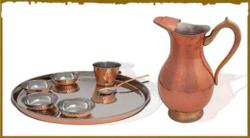 This will enable ShalinIndia customers across the world to buy unique traditional utensils on the occasion of Dhanteras, something considered very auspicious by the followers of Hinduism
New Delhi (PRWEB) September 27, 2011
An online shopping store from India, ShalinIndia has brought out full range of copper kitchen utensils in traditional and ethnic designs. "This will enable ShalinIndia customers across the world to buy unique traditional utensils on the occasion of Dhanteras, something considered very auspicious by the followers of Hinduism", says Shalini Verma, founder of ShalinIndia.
"This year the Diwali day will correspond with 24th October. Dhanteras is always celebrated two days before the Diwali and falls on the auspicious thirteenthlunar day of Krishna paksha (dark fortnight) in the Hindu calendar month of Ashwin. The Dhan in Dhanteras means wealth. On Dhanteras Hindus consider it auspicious to purchase gold or silver articles and at least one or two new utensils. It is believed that new "Dhan" or some form of precious metal is a sign of good luck. "Laxmi Puja" is performed in the evenings when tiny Diyas of clay are lit to drive away the shadows of evil spirits. "Bhajans", devotional songs in praise of Goddess Laxmi, are also sung", explained Shalini.
"The utensils we have launched for Dhanteras are in traditional and ethnic designs. However, we have also introduced one change. Traditionally these utensils were made entirely in copper. Our utensils are made in two layers of metals. While the outer layer is copper, the inner layer that actually comes in contact with the food, is made in stainless steel. This prevents the food from getting affected by the properties of copper and the food remains fresh longer. On the other hand, some of our drink-ware, jugs and glasses are entirely in copper. According to India's ancient alternative medicine system, water drunk from copper utensils have many therapeutic and healing properties, and keeps a person healthy", added Shalini.
ShalinIndia's kitchen utensils and dinnerware for Dhanteras can be bought from its online India shopping store. They can also be bought from Amazon in the US, UK, France, and Germany, and from Ebay in the US and the UK. ShalinIndia provides free expedited international shipping at its own store, and delivers orders in 3 to 5 days in any part of the world.
ShalinIndia is one of the premier online shopping stores of India. It specializes in selling India's cultural and traditional products to customers around the world. Through an arrangement with Amazon, ShalinIndia keeps its inventory in five countries – US, UK, France, Germany, and France. This enables ShalinIndia to reduce not only delivery time but also shipping costs. ShalinIndia has maintained consistently high feedback ratings from its online customers.
###