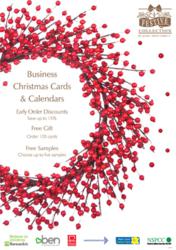 We offer great value and superb quality in our wide range of Personalised Christmas Cards
(PRWEB) September 28, 2011
Specialising in business Christmas cards, Chester-based Festive Collection (http://www.festivecollection.co.uk) have this year provided customers with a wider choice of personalised Christmas cards. The range of cards is updated yearly to meet current trends and with personalised cards becoming ever more popular, they have unveiled lots of new options within that category. Festive Collection provides businesses with a wide variety of cards, with many that are specific to certain industries such as automotive. The personalised Christmas cards are another way of providing businesses with a more unique card.
Many of the cards available from Festive Collection come with the option of including the company name within the front design of the card. This is done at no extra cost unless colour printing or a specific company logo is required. "The personalised Christmas cards allow businesses to give their employees and clients a card that is more unique and more personal," states Steve Dedo, Marketing Director for Festive Collection. "People would always rather receive a personalised card as it is much more special. Our range includes such a variety of cards that anyone, from any industry, can easily find something perfect."
Customers can choose to have their company name, slogan and even a specific logo printed within the card to create even more personalisation. Standard black printed personalisation within the cards is free with colour and specific logo printing incurring a small charge. All orders placed via the website before 7th October will receive a 15% discount and any orders for 100 cards or more will be entitled to a free gift.
"The personalised Christmas cards feature heavily throughout all of the categories of cards available from us, so finding one suitable for a specific industry is easily achievable," says Steve Dedo. "Placing an order soon will allow you plenty of time to sort out the personalisation details and will also entitle you to a 15% discount."
The personalised Christmas cards, and the rest of Festive Collections range, are available to order now via the website.
http://www.festivecollection.co.uk
Tel: 0800 616350
Fax: 0800 414041
###