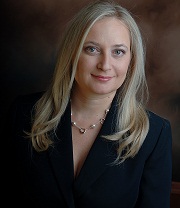 NYC physician Dr. Marina Gafanovich, MD: An ounce of prevention is worth a pound of cure
New York, NY (PRWEB) September 28, 2011
New York Physician Dr. Marina Gafanovich wants you to know that flu season is almost here, so take the time now before it's too late to make an appointment to have your annual flu vaccination.
As a New York doctor who regularly treats individuals for flu and other seasonal viruses, Dr. Gafanovich highly recommends "prevention" over "cure". According to the Centers for Disease control, the 2011-2012 flu vaccine will protect against Influenza A (H1N1), Influenza A (H3N2), and Influenza B.
The "Flu" or influenza is a contagious illness that attacks the respiratory functions of its host, causing chest pains, congestion, difficulties in breathing and can lead to developed infections in the chest and upper respiratory cavities. This illness can be mild to severe, and in extreme cases may even cause death. Dr. Gafanovich cautions that patients who are "high risk", such as those that have compromised immune systems, should receive their vaccination as soon as possible. The CDC recommends that everyone from six months and up receive a vaccination.
Dr. Gafanovich advises all of her patients to receive the vaccination to prevent not only the flu, but complications that may arise due to flu-related illness, such as: pneumonia, ear infections, or sinus infections. As a practicing New York physician and internist, Dr. Gafanovich would like to stress that influenza can have an adverse and dangerous affect upon those who have chronic conditions such as asthma, diabetes, or heart disease.
"You will hear me say this time and time again--an ounce of prevention is worth a pound of cure," Dr. Gafanovich tells us. "The last thing any of my heart or asthma patients need is to get the flu, for them this vaccination is an integral part of their personal health and wellness plans."
Most New York doctors will repeat this mantra to their patients. The seasonal flu is a huge contributor each year to job productivity in America, which is why so many companies have flu clinics in their offices. As part of her annual physical and pre-employment screening services, Dr. Gafanovich will always recommend influenza and other necessary vaccinations for the prevention of illness and disease.
"Many people think that vaccinations are for children," Dr. Gafanovich explains. "I will see a patient after an injury that requires a tetanus shot and almost every time I hear from the patient that their last vaccination was in college or the military—or even high school. I try to educate my patients about the necessity of keeping their vaccinations up to date even after their school days are over."
Dr. Marina Gafanovich wants to urge her current patients to make an appointment for a flu vaccination, and to encourage new patients to begin their relationship with her Manhattan physician practice with a physical exam and vaccination program.
"Disease prevention is essential to a healthy lifestyle," she states. "It is cheaper and easier to prevent a disease than to treat it!" Make an appointment with Dr. Gafanovich today to receive your flu shot. New York vaccinations have been her area of expertise for years.
Dr. Marina Gafanovich is a board certified internist practicing in the City of New York. She has attending privileges at both New York Hospital Weill Cornell Medical Center and at North Shore University Hospital. She has been ranked a #1 Internist in New York by prestigious consumer opinion organizations like "Health Grades", "Wellness", "Avvo", and "CitySearch".
Her office details is as follows. Dr. Marina Gafanovich, MD - 1550 York Avenue, New York NY 10028 - (212) 249-6218. http://www.mynycdoctor.com
# # #