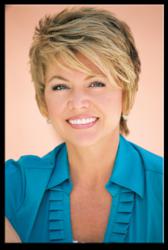 Teachers, parents and retailers alike see the creative potential of Hygloss craft supplies, which help young minds grow and blossom.
(PRWEB) September 29, 2011
Terri O, two-time Emmy award winner and host of PBS's Super Simple with Terri O," is being featured in two videos on HyglossProducts.com, demonstrating kids crafts and activities for use with the company's craft supplies. As the face of creativity for the Craft and Hobby Association for the last ten years running, Terri, also known as the "Queen of Crafts," is full of all kinds of ideas for fun and creative crafts for kids as well as adults.
Teachers, parents and retailers alike see the creative potential of Hygloss craft supplies, which help young minds grow and blossom. In addition to their commitment to high quality products, Hygloss Products also boasts courteous and helpful customer service to accommodate individual needs. Their Website also features a weekly Kids Crafts Blog and Free Craft Library with craft ideas for the parent, homeschooler or teacher.
In one of her videos, Terri explains how to make a "Be Good Board." Using Hygloss Products' behavior kit, parents and teachers can make a behavior management board that caters to the specific needs of each of their children or students. This reward system encourages kids of all ages to behave properly and to accomplish the tasks expected of them.
In another video, Terri O demonstrates how Hygloss' Dazzlin Dough Language Kit works. This kit, which comes with letter cards, an erasable marker, and Dazzlin Dough, is great for letter identification skills, fine motor skills, and word creation. By following the outlines of the letters on each card, kids can create the letters out of modeling dough, which reinforces the shape of each letter and makes it more tangible to them.
With the help of Terri O, Hygloss Products is reaching out to teachers and parents to inspire them with ideas for innovative educational concepts and crafts that will not only be fun for kids to make, but will enrich their minds and help them learn and grow to reach their fullest potential.
About Hygloss Products
Since 1950, Hygloss Products has offered innovative arts and crafts supplies to ignite creativity in children and adults. Teachers, parents and hobbyists alike enjoy the superior quality of Hygloss craft supplies, specialty paper and classroom essentials. Children's minds are ever expanding, and that's why the Hygloss product line is constantly being updated.
All Hygloss Products come with a money back satisfaction guarantee because we're not happy until you are. Give yourself a fabulous crafting experience with unique and exclusive supplies from Hygloss Products or call 1-800-444-9456.
# # #