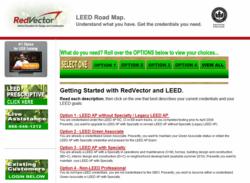 "Providing fresh, industry-relevant content for AEC professionals is what RedVector is all about, and with these four webcasts we've combined the latest eLearning technology with subject matter that's really spot-on for the industry right now." Matt Casey
Tampa (PRWEB) September 27, 2011
RedVector.com, the leader in online continuing education for the AEC industry and a pioneer in green building education and LEED online training, announced recently the release of four new webcasts focusing on current green building education and sustainable design topics. Each webcast will feature full audio capability with closed captioning and will include a downloadable PDF of the slides and notes.
"We're really excited about these new green building education webcasts," says Matt Casey, Vice President of Content for RedVector. "Providing fresh, industry-relevant content for AEC professionals is what RedVector is all about, and with these four webcasts we've combined the latest eLearning technology with subject matter that's really spot-on for the industry right now: there is and will continue to be a strong demand for green building and sustainable design practices. These courses cater to those professionals who are looking to set themselves apart through LEED certification and green building education."

Residential Solar Power Systems is a 2-hour webcast covering the basics of electricity, solar power, solar energy system design and solar energy system installation. It includes an overview of pre-installation considerations and potential tax incentives.
LEED: Introduction to Sustainable Sites is a 1-hour webcast explaining how to earn LEED credits in the very important LEED category of Sustainable Sites. It covers site selection, stormwater, habitat protections, light pollution, heat island effect and more.
LEED: Water Efficiency is a 1-hour webcast about our most precious natural resource and a cornerstone of the LEED Rating System: water. It provides an overview of the rating system, the prerequisite for Water Use Reduction, and descriptions of available credits.
Bamboo Flooring and Beyond is a 1-hour webcast offering an in-depth look at how bamboo grows and is harvested as well as valuable information about its characteristics, how it compares to wood, and why it's an excellent choice for flooring.
Among the first to offer high-quality online CE for architects, engineers and construction professionals with a focus on green building and sustainable design, RedVector delivers its innovative webcasts through its industry-leading AEC Learning Management System. The RedVector LMS offers convenient 24/7 access to a robust online education library to help individuals as well as entire organizations acquire the essential education needed to advance their skills and emerge as industry leaders.
About RedVector
RedVector sets the standard for excellence in traditional and green online continuing education for licensed and certified professionals in the architecture, engineering and contractor arenas. A USGBC-approved provider with more than 70 online courses making up nearly 200 hours on green and sustainable design topics, RedVector serves more than 130,000 design and construction professionals with accurate, engaging, interactive educational content. The recipient of numerous community honors and industry awards, RedVector was founded in 1999 and is headquartered in Tampa, Florida. For further information call 1-866-546-1212 or visit http://www.redvector.com.
###