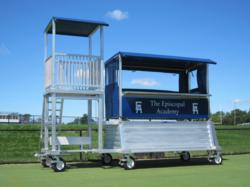 "... AAE suggested some custom modifications like adding a second row and contour seats, which makes it exactly what we need in a scorer's platform."
Royersford, PA (PRWEB) September 27, 2011
AAE (Aluminum Athletic Equipment Co.), manufacturer of top-quality athletic equipment, introduces its Bird's Nest Video Tower, bi-level seating, aluminum canopies, aluminum banners and contoured seats to further customize its DONKEY Portable Press Boxes. All of these new features enhance the overall durability, functionality and comfort of these ultimate sports media centers for scorers, broadcasters and officials.
Specially constructed with a higher viewing height for video-taping games and practices, the Bird's Nest Video Tower attaches to a DONKEY-1 or DONKEY-2 to create an integrated media and scoring unit. The rest of the new offerings were sparked by working with Tennessee Tech on DONKEY-4 upgrades, including: 1) bi-level seating, which expands the platform to include a second, elevated row for a higher seat count with unobstructed viewing; 2) a powder-coated aluminum canopy that provides sleeker, more durable weather protection than its vinyl predecessor; 3) a powder-coated aluminum banner with a color vinyl transfer displaying school mascot and name; and 4) contoured seats that attach to the standard benches to create more comfortable seating.
"The DONKEY was almost perfect for our soccer field, but we wanted to fit more people in it," stated Benjamin Shannon, Director of Facilities and Events at Tennessee Tech. "That's when AAE suggested some custom modifications like adding a second row and contour seats, which makes it exactly what we need in a scorer's platform."
Available in DONKEY-1 (4' elevated), DONKEY-2 (4' elevated with storage), DONKEY-3 (2' elevated) or DONKEY-4 (3' elevated) models, all models can have the Bi-Level Seating option added during production to: 1) expand the platform depth to accommodate a second row; 2) create dual entries with ladder steps on each side for easy access to each row; 3) extend the canopy to cover the added square footage beneath. Other options still include: lockable storage compartment; hitch attachment; mounting leg supports; vinyl or powder-coated aluminum school/advertising banners (10' x 2' on front; 10' x 4' on back); removable, roll-up weather screens; permanent tinted plexi-glass weather enclosure with hinged door; penalty bench across wheel beds; wheel protector pads; bench seat and backrest cushions, available in variety of colors. Call for details and pricing on a customized DONKEY model.
The original DONKEY models debuted over six years ago as portable, elevated multi-purpose centers, with or without storage, to be used in nearly all sports including track, lacrosse, soccer, field hockey, baseball and tennis. Great protection from the weather and sun, a DONKEY typically seats five to six people and rolls (moved by one or two people) on lockable wheels.
Since inventing and patenting the aluminum rocker hurdle in 1950 for the track marketplace, AAE has introduced a multitude of new products for use by coaches and athletes worldwide. With the use of advanced technology and design innovations, the firm makes over 500 items for track & field, football, rugby, soccer, lacrosse, field hockey, baseball, softball and Kronum. AAE develops, fabricates and assembles most products at its Royersford headquarters and manufacturing location near Philadelphia. For more product information call 800-523-5471 or visit myAAEworld.com.
###