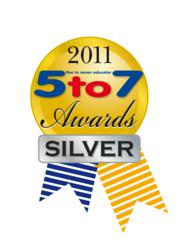 Maths-Whizz is a very valuable learning aid
London, Europe (PRWEB) September 27, 2011
This award, recognises that child-directed learning is refreshing and valuable in a world of hot-housing and pressure directed at both parents and children.
Maths-Whizz Tutoring + was tested not just by teachers and parents, but by the harshest of critics, children themselves.
Testers described Maths-Whizz as:
" A very valuable learning aid that has a good variety of questions. The initial appeal of the program is high and children find it easy to get in to."
Madeleine White, Marketing Director, comments:
" We are delighted to have received this superb consumer-driven award for Key Stage 1 learners. As a parent I am passionate about looking for ways to participate in my children's learning journey. As a businesswoman I know how valuable it is to parents to be able to be part of their little ones learning - Maths-Whizz enables us to do this remotely, even when we can't be around. This award demonstrates confidence parents and children have in the Maths-Whizz Triangle of Success. This Maths-Whizz linked learning environment is available to everyone online, at the fraction of the cost of traditional tutoring. We are also looking forward to the Key Stage 2 awards coming online next year!"
About Whizz Education:
Whizz Education enables individuals, families and communities throughout the world to realise their full potential, by creating inclusive learning environments that are based on customer needs and deliverable standards.

We are committed to continually developing and building upon innovative, creative and enjoyable learning services that lead to measurable results.
We are committed to raising learner confidence and educational standards and through online, personalised tutoring services and resources that are applied with best practice.
We are committed to catering to each student's unique ability and pace of learning, by delivering individual learning in a scalable way.
We are committed to working with educational, corporate and charity partners with the aim of creating funded access to our services for all.
About Maths Whizz:
Maths-Whizz is an online suite of services that guarantees raised standards in numeracy for 5 to 13 year-olds. The award-winning Maths-Whizz system is able to create the best possible learning outcomes by building confidence and encouraging linked learning at home and in schools. Maths-Whizz creates a shared learning experience for students, parents and teachers with whole-class interactive tools, online personalised tutoring and best practice support worldwide.