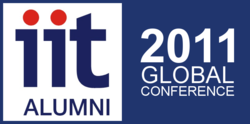 The American Leadership Award winners represent the best of IIT alumni in the U.S. with their diverse accomplishments and contributions to American job creation, education, and philanthropy
New York, NY (PRWEB) September 26, 2011
The Dean of Harvard University Business School, the former Chief Executive of one of the world's largest mobile phone companies, and the founder of a U.S. nonprofit organization devoted to ending blindness in India are among the seven recipients of the PAN IIT USA American Leadership Awards, which recognize outstanding achievements and accomplishments of IIT alumni who have made significant contributions to American society and throughout the world. The winners will be honored at a ceremony during the 2011 PAN IIT Global Alumni Conference, Solutions for a Better World, September 30 - October 2 at the New York Hilton Hotel.
More than 500 nominees were considered for these prestigious awards, which represent seven specific categories of achievement. The awards and their respective winners include:

Academic Accomplishment, Dr. Nitin Nohria, Dean of Harvard Business School
Lifetime Achievement, Arun Sarin, former Chief Executive, Vodafone Group plc
Social Entrepreneurship, K. Sridharan, President and Founder, Sankara Eye Foundation
Technology Leadership, Dr. Arogyaswami Paulraj, Professor Emeritus Stanford University
Entrepreneurial Achievement, Purnendu Chatterjee, President, The Chatterjee Group
Corporate Excellence, Manoj Singh, COO, Deloitte Touche Tohmatsu Limited
Global PAN IIT Award, Arvind Kejriwal, Indian social activist.
"The American Leadership Award winners represent the best of IIT alumni in the U.S. with their diverse accomplishments and contributions to American job creation, education, and philanthropy," said Gunjan Bagla, Founder and Managing Director of Amritt, Inc., President of PAN IIT USA and Chair of the awards committee. "These alumni embody the spirit of our upcoming conference by truly bringing solutions for a better world through their thought leadership, business acumen and sense of social responsibility. We are humbled and awed by their accomplishments."
About the American Leadership Award Winners:
Dr. Nitin Nohria (Academic Accomplishment) became the 10th Dean of Harvard Business School on July 1, 2010. His intellectual interests center on human motivation, leadership, corporate transformation and accountability, and sustainable economic and human performance. He has co-authored or co-edited 16 books and more than 50 journal articles, book chapters, cases, working papers and notes. He has served as an advisor and consultant to large and small companies around the world, and is recognized internationally for his research contributions.
Arun Sarin (Lifetime Achievement) has worked in the telecommunications industry for the majority of his career and, most recently, was Chief Executive of Vodafone Group plc. He is currently a non-executive director of Charles Schwab Corporation, Cisco and Safeway, Inc., and serves as senior advisor to KKR, a global private equity group.
K. Sridharan (Social Entrepreneurship) is the President and Founder of the Sankara Eye Foundation, a U.S. nonprofit devoted to ending curable blindness for needy people in India. Founded in 1998, the organization currently operates eight hospitals in India with its partner, Sankara Eye Care Institutions. The number of free eye surgeries the organization has provided increased from 8,000 in 1998 to 120,000 in 2010. The organization's ultimate goal is to expand operations to the entire country of India and to teach and initiate similar philanthropic operations in other nations.
Dr. Arogyaswami Paulraj (Technology Leadership) is Professor Emeritus, Stanford University's Department of Electrical Engineering and the inventor of MIMO wireless communications, a technology breakthrough that enables improved wireless performance. Dr. Paulraj is the author of over 400 research papers, two text books and is a co-inventor in 52 U.S. patents.
Dr. Purnendu Chatterjee (Entrepreneurial Achievement) is President of The Chatterjee Group, a New York based principal investment firm. He has extensive experience investing in public and private companies both in the U.S. and abroad. In July 2011, Dr. Chatterjee was named Chairman of the Board of Haldia Petrochemicals Ltd.
Manoj Singh, (Corporate Excellence) COO of Deloitte Touche Tohmatsu Limited, has extensive management consulting experience in advising national and multinational companies on mergers and acquisitions and shareholder value growth with a specific focus on technology, manufacturing and the energy industry.
Arvind Kejriwal (Global PAN IIT) is an Indian social activist fighting for greater transparency in India's government. Mr. Kejriwal, with Aruna Roy and others, has been recognized for activating India's Right to Information (RTI) movement via grassroots efforts and social activities to empower India's poorest citizens to fight corruption by holding the government answerable to its people. One of India's more notable social activists, he is a member of India Against Corruption (IAC) and is an active participant in the movement for the enactment of the Jan Lokpal Bill.
PAN IIT USA is the umbrella alumni organization for all 15 campuses of the India Institutes of Technology, India's most recognizable symbol of its intellectual excellence, achievement and leadership. Gunjan Bagla, Founder and Managing Director of Amritt, Inc. is president of the organization's Board of Directors.
The 2011 PAN IIT Global Alumni Conference, Solutions for a Better World, brings together alumni from all 15 campuses of the Indian Institutes of Technology in India to share ideas, network, innovate and socialize. Held every two years in the U.S., the conference celebrates the IIT community's contributions to bilateral trade, exports and job creation between the U.S. and India. The conference welcomes all participants regardless of their affiliation with the IITs. Registration and the conference agenda are available here.
All sessions at the PAN IIT Global Alumni Conference are open to the media. Contact Wendy Ward at wendy(at)paige2(dot)com or 215-968-6272 to arrange interviews.
# # #