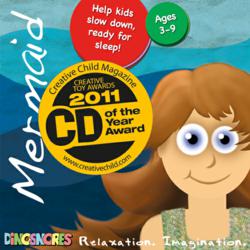 Each story takes children on an imaginative journey through a world of sleepy little creatures (and a few snoozy big ones too)
Sydney, Australia (PRWEB) September 28, 2011
A new company - Dinosnores - has received three awards from Creative Child Magazine: a 2011 CD OF THE YEAR for its Mermaid Sleepy Story, and two SEALS OF EXCELLENCE for its Tyrannosaurus and Dragon Sleepy Stories.
"We're thrilled to have our stories honored by the prestigious Creative Child Awards Program," said Sherene Alfreds, the paediatric speech pathologist and child language development expert behind Dinosnores. "We have designed our stories to be fun and engaging for children, to build children's listening skills and vocabulary, and to teach good sleep habits. More and more research is showing the importance of good bedtime routines for children's health and learning, and Dinosnores Sleepy Stories help make bedtime easy for both children and parents."
Dinosnores Sleepy Stories are delightful stories designed to help children calm down and relax, ready for sleep. Each story takes children on an imaginative journey through a world of sleepy little creatures (and a few snoozy big ones too). Using guided relaxation and visualization techniques, Dinosnores Sleepy Stories help children focus on slowing their breathing, and relaxing their bodies.
Dinosnores Sleepy Stories are different from other bedtime stories:

each story CD runs for a full hour, helping to make sure children stay settled after falling asleep
calming natural soundscapes evoke an imaginary world, as well as masking distracting household noise
the stories have been produced by child language development experts, and use simple language with explanation and repetition to build language and listening skills
Each Dinosnores Sleepy Story teaches children all sorts of facts about the natural world - forests, mountains, clouds and the ocean. They also emphasise family, friends, security and helping, while providing children with strong, powerful role models.
"We'd like to thank the Creative Child Awards Program for their recognition," said Stuart Walton, a director of Dinosnores. "We're a new company, and to have our stories selected by the Awards Program's panel of parents, childcare experts and educators is a tremendous honour."
About Dinosnores Sleepy Stories
Dinosnores Sleepy Stories are stories and soundscapes designed to help children learn to relax, ready for sleep. Designed for children aged between 3 and 9, Dinosnores Sleepy Stories are used by childcare centres, recommended by psychologists, and loved by children and parents.
There are currently four titles: Mermaid, Tyrannosaurus, Dragon and Fairy.
Dinosnores products are available online from:
http://www.dinosnores.com
http://www.thesleepstore.co.nz
http://www.naturalsleepshop.com
iTunes
About Creative Child Magazine
Creative Child Magazine is an American publication in its 11th year of circulation. Their awards are unique in that their awards are judged by a panel of parents, educators, and professionals. The Creative Child website will be updated to show their award winners from 1 October 2011. (http://www.creativechild.com)
# # #