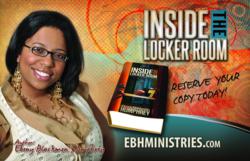 I want others to experience the Power of Prayer, as I have countless times
Detroit, MI (PRWEB) September 27, 2011
Inside the Locker Room: A Journey of Faith and the Power of Prayer released in Spring 2011, through the Charisma Media imprint Creation House by author and wife of NFL Tight end Tory Humphrey. Author Ebony Humphrey takes readers through the highs and lows of life as the wife of a professional athlete.
Inside the Locker Room is a personal account of Ebony Humphrey's tumultuous childhood living with a mentally ill mother, abuse, spending time in the foster care system, as well as being raised by her grandmother who was stricken with Alzheimer's Disease while caring for her. She explains to readers how her personal relationship with Christ brought her through the hard times. Now Ebony declares victory as the mother of 4 and wife of a professional athlete. She encourages readers to depend on the power of God to guide all aspects of their lives.
Ebony Humphrey learned to put God first and trust his will for her life. Her prayer and faith keeps her from crumbling each time her husband is injured on the field, and it is that same faith that keeps her rooted in who she is in Christ. A complete contradiction to the over-the-top lifestyle portrayed by 'Ballers Wives' on television and in the media, Ebony Humphrey works to live her life as a virtuous woman and apply the word of God to her personal, business, and social life. She shares her blueprint for life with readers in her touching and powerful book.
To receive a promotional copy of Inside the Locker Room: A Journey of Faith and the Power of Prayer, or to schedule an interview, book signing, or speaking engagement with Ebony Humphrey contact EBH Ministries Inc.
###