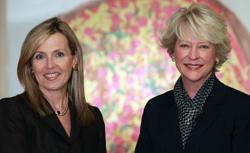 Beverly and Aaron possess a passion for community service that, when combined with their impressive resumes, will serve The Hearing and Speech Agency well for years to come.
Baltimore, Maryland (PRWEB) September 28, 2011
The Hearing and Speech Agency (HASA), a non-profit organization providing audiology and speech-language pathology services, special education for children with communication needs and interpreting services for the deaf announces the election of two new members to its Board of Directors:
BEVERLY RICHARDS
Ms. Richards is the Director of Development at Coppin State University. She holds a Bachelor of Science degree in English from the University of Baltimore and is currently working towards her Master of Public Administration degree. She worked to raise more than $8 million to support Coppin's Helene Fuld School of Nursing. She served as the editor of the Luminaire, the School of Nursing Magazine, which promotes leadership and personal development of faculty, staff and students and has planned and executed ARTcetra, an annual art auction to benefit the school.
Prior to her tenure at Coppin State University, she was with The Department of Business & Economic Development for the state of Maryland, The Legislative Black Caucus of Maryland and was owner of her own public relations firm, The Richburg Group. Beverly has received the Maryland Chapter Public Relations Society of Maryland award and an award from the Maryland Business Review. In addition, she is a member of Pi Alpha Alpha, the National Honor Society for Public Affairs and Administration. Her special interests range from storytelling and creative writing to being a member of Griot Circle of Maryland, Inc., an oral historian group which brings traditional African stories, poems and songs to life across the United States and in other countries.
AARON T. MARSHALL, ESQ.
A Widener University School of Law graduate, Aaron also has a B.S. in Finance from the University of Delaware. Currently, he is Senior Counsel with the Northrop Grumman Corporation, where he has worked since 2006. Prior to that position, Aaron was Associate Legal Advisor to the U.S. Department of Homeland Security, Immigration and Customs Enforcement; Assistant General Counsel to the U.S. Department of Justice (DOJ), Federal Bureau of Prisons; and DOJ Honors Attorney. His areas of expertise include serving as a corporate attorney advising multiple business areas in government and commercial contracting, evaluation of business risks, conducting internal investigations, compliance with company policies and applicable laws, business ethics and commercial leases. He also has diversified senior level experience with federal agencies advising on the formation and administration of government schedule contracts and employment litigation before administrative courts.
Aaron is currently a Director with the Association of Corporate Counsel - Baltimore Area Chapter, a pro bono counsel for the Maryland volunteer Lawyers Service. He has been a student at the American Academy of Martial Arts and ran the Marine Corps Marathon in 2004.
HASA Board President Jeri Hessan states, "Beverly and Aaron possess a passion for community service that, when combined with their impressive resumes, will serve The Hearing and Speech Agency well for years to come." The Hearing and Speech Agency is pleased to introduce Beverly and Aaron as part of the leadership of the Board of Directors.
ABOUT THE HEARING AND SPEECH AGENCY:
HASA is a private non-profit organization that offers audiology, speech-language, special education and interpreting services to more than 4,000 children and adults each year. Services include hearing tests, pre- and post-cochlear implant services, hearing aids, hearing aid repair; speech-language evaluation and therapy, auditory-oral therapy; oral deaf education, occupational and physical therapy; special education, sign language and oral interpreting, American Sign Language classes deaf awareness seminars, social work and parent support groups.
###