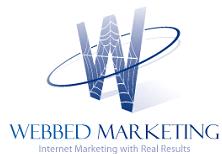 (PRWEB) September 27, 2011
Webbed Marketing, a social media marketing and search engine optimization company in central Ohio, announces a full online marketing speaking and event schedule for the fall. The company, recently acquired by Fathom, is a leader in the industry, and their fall speaking schedule has a strong emphasis on social media, using social media for research and online communications.
With an active presence in the local and national Internet marketing community, Webbed Marketing will be sharing its expertise at several events nationwide this fall. Kicking off the fall schedule, Bill Balderaz, Webbed Marketing's president, will speak at The Ohio State University Fawcett Center for the Ground Work (GWg) Columbus 6th Annual Central Ohio Nonprofit IT Conference on October 7. The theme is "Is the Cloud Right for You?" and Balderaz will share on a panel discussion about how to get the most out of your social media efforts.
On October 12, Balderaz will travel to Chicago, Illinois for the 2011 National TIER Exchange, where he will cover the role of social media in mental and behavioral healthcare. He will discuss practical ways of using social media within healthcare organizations, including how to understand legal, compliance and privacy concerns associated with using social media within healthcare. Balderaz will also walk through the basics of a strong social media policy, and how to use it effectively for healthcare organizations.
The Ohio Union at The Ohio State University will welcome Balderaz again on October 13 for the Ohio Hispanic Business Summit. Balderaz's presentation, "Cutting Edge Digital and Social Media – Make it Work for You," will share how business owners can make social media and online marketing work for their organizations to help them meet real business goals and drive ROI.
The Ohio Rural Electric Cooperatives' will host Balderaz on October 14 for their social media training session in Columbus, Ohio. Balderaz will teach the group how to get started with social media, and how to apply it to marketing and communications efforts. Many people are hesitant to jump right in to social media; Balderaz will share how to prevent feeling overwhelmed when you begin using social media, and how to keep social media efforts aligned with communication goals for your business.
An in-depth conversation about Google+, hosted by the Columbus American Marketing Association (AMA), will bring an entire panel of experts together on November 2, at the Columbus Metropolitan Library. Balderaz will join Brian Lockrey, from Assist Data Recovery, and Christian Adams, from Sigma Creative, on the Google+ panel discussion.
Balderaz will join Thomas Harvey's entrepreneurial marketing class at The Ohio State University's Fisher College of Business on November 3. He will share his insight on entrepreneurship, starting a business from the ground, up, and managing a team of online marketing professionals.
The Small Business Forum and Leader Awards, hosted by the Columbus Chamber, invite the Columbus community to join in celebrating local companies at the annual awards on November 15. Balderaz, a former recipient of the Small Business Leader of the Year award, is a speaker at the ceremony this year, and will discuss how to build small business success.
The Smart Business "Get Social: The 2011 Social Media Conference," in Cleveland, Ohio, is a day that promises to be full of practical social media applications for business from some of the region's top leaders. Fathom is a co-sponsor and will feature two panel speakers at the event, Balderaz and Kurt Krejny, director of online marketing at Fathom. Balderaz will discuss some best practices in social media, sharing practical case studies from leading businesses and how their social media has benefitted business with customers, fans, clients and vendors.
If you'd like information about how to book one of Webbed Marketing's online marketing experts for your next event or conference, please contact Courtney Cooper at ccooper(at)webbedmarketing(dot)com.
For more information about Webbed Marketing, visit http://www.webbedmarketing.com.
About Webbed Marketing
Webbed Marketing's goal is to help organizations grow by using the power of online marketing, advertising and public relations. Their parent company is Fathom Online Marketing. Webbed Marketing specializes in search engine optimization, pay-per-click advertising, social media, mobile marketing and research and planning. Visit http://www.webbedmarketing.com for more information.
# # #