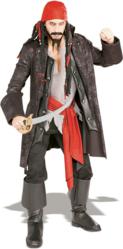 It would seem that visibility of the event has increased in the UK, with more and more customers entering into the spirit of this fun celebration
Wickford, UK (PRWEB UK) 27 September 2011
The 19th September witnessed the celebration of one of the more unusual events in our yearly calendar-'International Talk Like a Pirate Day'. This somewhat eccentric celebration has led to an 80% increase in monthly sales of pirate costumes and accessories, according to UK costume retailer, All Fancy Dress.
According to Marketing Manager Matt Foden, 'We have received an increasing number of phone calls and internet orders from customers deciding to celebrate 'Talk Like a Pirate Day' this year. Some of these customers held their own pirate themed parties, whereas other customers decided to actually wear their pirate costumes into work. We even received one call from a call centre that made it mandatory for their staff to wear pirate costumes on the day. It would seem that visibility of the event has increased in the UK, with more and more customers entering into the spirit of this fun celebration'.
The origins of the day are now the stuff of internet legend. Created by John Baur and Mark Summers, from Oregon in the United States, International Talk Like a Pirate Day went 'viral' across the internet in 2002, and now has a significant cult following. The main purpose behind the day is fairly self-explanatory; participants are required to affect a mock pirate accent, and maintain this accent during the course of the whole day. A simple 'good morning' hence becomes a hearty 'Ahoy Matey!'
All Fancy Dress is now turning its attention towards Halloween, which is traditionally the busiest time of year for fancy dress retailers. According to Matt, 'Halloween is by far the busiest time of year for us, and 2011 will be no exception. In terms of the biggest selling Halloween costumes we expect zombie and vampire costumes to be in huge demand. However, over the last 3 years we have also seen an increasing demand for costumes from popular horror movies, such as 'A Nightmare on Elm Street', as well as alternative and even funny costumes. It would seem that the UK has started to embrace Halloween almost as much as our American cousins.'
About All Fancy Dress
http://www.allfancydress.com is one of the biggest and most highly regarded fancy dress retailers in the UK. Its popular range of outfits includes everything from Halloween costumes to history costumes.
All Fancy Dress offers a number of flexible delivery options for customers living nationwide and overseas, including same day despatch for all orders made before 17.15pm.
###