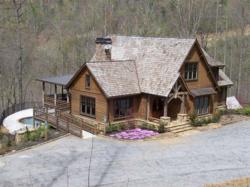 Franklin, NC (PRWEB) September 27, 2011
Macon County and local Franklin officials are excited that new ownership has remedied old problems in a portion of the resort community known the Wildflower Development. They have recently approved 11 additional building lots, totaling 98 finished home-sites with driveways, underground utilities and septic permits already in place. The problem in the past was with the integrity of the road construction because the previous developer's contractors failed to properly cap natural springs and heed other road construction protocols. This caused unstable soil conditions that eventually resulted in a road landslide and a host of ensuing controversy.
In June of 2011, a new developer, Leed Enterprises purchased over 500 acres in this luxury Blue Ridge / Smokey Mountain resort breathing new life into what was a failing situation. The new developers retained a national, top-100 ENR geotech engineering company, ECS (http://www.ecslimited.com), who has been working in conjunction with a local engineering firm, CETech of Franklin, NC (http://www.cetechengineering.com). Together with Leed's team of experts they have facilitated multiple solutions, built a new road and repurposed the land where the old road was by creating park areas. Now, only 4 months later they are ready to market 98 newly improved building lots that include driveways, building pads & septic permits already in place. "We have retained the brightest minds in the region in order to successfully produce superior building sites for residential construction", said Managing Director of Leed Enterprises, John Williams.
This new section of the Wildflower subdivision (http://www.wildflowerdevelopmentfranklinnc.com) has been renamed by the development company, a group of well-funded, seasoned developers who purchase undervalued assets from the FDIC and lending institutions throughout the southeast. Their expertise and experience is in single and multi-family resort projects as well as retail and commercial developments in the US and Central America.
These homesites "The Ridges" boast 3,600 foot elevations that provide 60-mile panoramic views, waterfalls, greenway hiking and biking and numerous other activities…not to mention relaxation and an unsurpassed connection with nature. This unique, luxury community includes amenities such as a magnificently appointed clubhouse with salt water pool and fitness center. "The Ridges" is a premium, gated community only minutes from downtown Franklin and 20 minutes from Harrah's Cherokee Casino (http://www.harrahscherokee.com), said Williams. "Franklin, North Carolina is an amazing place and we are excited to be part of this exceptional property!"
For more information contact:
John Williams – Managing Director
Wildflower Project – Leed Enterprises, LLC
(Telephone) 770-840-8165
atlantarealestate(at)hotmail(dot)com
# # #