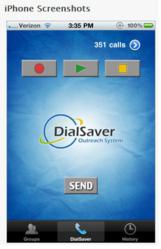 I would rather take one good lead over 100 bad leads
New York, NY (PRWEB) September 28, 2011
Parwan Electronics Corporation (PEC) announces the release of its new and upgraded DialSaver Autodialer Systems as the first ever Multi-user Web Enabled software package in the market! The new DialSaver System allows individual web-based access and management by several users on the same system at any given time.
Built on the already successful DialSaver Autodialer Dialout Systems, the new upgraded version is a centralized multi-user telephone dialout system featuring several innovations that allow companies to reach their target audience promptly and efficiently.
DialSaver Systems dial numbers automatically from a database, detect the difference between Live Answers and Answering Machines or Voicemail, and deliver a pre-recorded message (that you record yourself). The new edition of the DialSaver Dialout System enables multiple users to schedule the automated broadcasting of voice messages by phone.
According to PEC developers, the new DialSaver Dialout Systems has numerous features and benefits. Its multi user/multi department support allows several users to control their individual dialout campaigns on the same system at the same time. For example, within a company, the accounting department can schedule a dialout for collections while the front office calls for reminders or appointments.
Everyone should use outbound Dialout for reminding a person for pending unpaid bills at least three or four times before any human agent or recovery agents calls up in order to avoid embarrassing a customer! The DialSaver systems exactly do that.
Politicians do surveys to find out exactly what issues are important and target their campaigns around them. Targeting your audience with relevant issues can bring desired results. If one is running a Survey business they can use the DialSaver Systems to collect unbiased responses and generate reports for their clients. This allows the Survey company to generate revenue.
"I would rather take one good lead over 100 bad leads," says Sales Manager Steve Gonzales. With the combination of quality phone lists and accurate message, the DialSaver systems can be used to generate quality leads.
DialSaver is an essential tool for Emergency Broadcasting or "Emergency Alert" notifications when the need arises to contact a group of people quickly and deliver a message. Enhanced call reporting keeps track of all calls statuses by reporting back to the database. It works 24 hours a day, 7 days a week.
For people who may have an accent, pronunciation issues or simply may not wish to record their voice and prefer to type out a message instead, DialSaver's enhanced support of Text-To-Speech (TTS) can personalize each typed message for the intended recipient with realistic human sounding voice message.
DialSaver is completely web enabled for easy management. A Smartphone application that allows clients to create, schedule and send a dialout function from an iPhone, iPad or iTouch is available free of charge. It is accessible from anywhere and enhanced prompt management allows for easy uploads or additions of new prompts. Campaign testing allows testing dialouts before launching them. Easy IVR supports customized customer interaction.
The DialSaver also supports Voice of Internet (VoIP), this obviates the need to have leased or dedicated telephone lines.
Parwan Electronics Corporation (PEC) has been creating innovative and bullet-proof software since 1984. They have installed over 25,000 Systems worldwide in more than 10,000 locations.
Contact:
Attention: Ajay Tschand
Parwan Electronics Corporation
1230 Highway 34
Aberdeen, New Jersey 07747
U.S.A.
Phone: +1-732-290-1900 ext. 3225
Fax: +1-732-566-8771
http://www.voicesaver.com
Email: ajay(at)voicesaver(dot)com
###