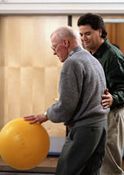 Stratford's entry level course is an ideal way to learn more about this growing career field.
Scranton, PA (PRWEB) September 27, 2011
Just in time for back to school season, distance learning school Stratford Career Institute has updated one of their increasingly popular courses, Physical Therapy Aide.
Through the addition of a new textbook and modified study guides, students enrolled in this course will now have access to more than 150 new photographs to help illustrate a variety of clinical skills and physical therapy modalities.
Fundamental lessons on patient preparation and medical terminology are covered, and the course includes a broad range of non-medical tasks and skills related to a successful physical therapy aide career including administrative duties, decision making skills, problem solving, analytical thinking and more.
"It's no secret that medical careers are among some of the fastest growing jobs. What many people may not know, is that with some proper career training, individuals can get their foot in the door in a number of medical career fields such as physical therapy aide," said Dr. Claude Major, Director of Education for Stratford Career Institute.
"Stratford's entry level course is an ideal way to learn more about this growing career field and can truly help students quickly gain a thorough fundamental education that could lead to years of career fulfillment," added Dr. Major.
Overall, Stratford's Physical Therapy Aide course is designed to help students gain a thorough understanding of the fundamentals of an entry level career as a physical therapy aide.
Similar to Stratford's high school diploma program, the Physical Therapy Aide course is completed through guided, independent study. Students complete lessons at home on their own time, and submit exams either online or through the mail. Instructors are available via e-mail and toll-free phone. Students also have the option to make interest-free, monthly payments.
Anyone interested in learning more about a career as a physical therapy aide, or any one of Stratford's career training courses, can request a free career information packet by calling 1-800-363-0058 ext 9980 or visiting the career school's website scitraining.com.
About Stratford Career Institute
Stratford Career Institute is a distance learning correspondence school that employs a distinct educational training method allowing students to complete their studies and earn their career diploma at home rather than spending hours in a classroom. Contemporary online tools combined with traditional correspondence education give students the flexibility to study when it is convenient for them.
Stratford Career Institute offers more than 60 distance learning courses in a variety of contemporary career fields as well as a high school diploma program.
###