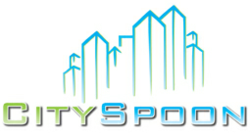 We post new coupons every day!
Las Vegas, NV (PRWEB) September 26, 2011
September is National Coupon Month and CitySpoon.com is celebrating in a big way! CitySpoon has uploaded hundreds of new coupons to the "Coupons" section of CitySpoon.com. In partnering with various businesses, CitySpoon is able to offer special deals on the best things to buy, eat, and do at local "Hot Spots."
CitySpoon also provides hundreds of "National/Grocery" coupons on America's favorite brands. National coupons can be used at major and local grocery chains resulting in hundreds of dollars in savings for users.
"We post new coupons every day," CitySpoon CEO and founder Bijan Safi said. "Times are tough but 'Spooners' can enjoy the best products and services available."
"Hot Spot" Coupons include free sake at Osaka Japanese Bistro, free dessert at Agave Mexican Restaurant, and $75 off tattoo services at King Ink all in the Las Vegas area. Spooners can also enjoy savings on popular household brand names Windex, Glad, and Scrubbing Bubbles with CitySpoon's National/Grocery Coupons. (See coupons for details.)
Become a "Spooner," peruse CitySpoon.com, search affiliates (or become one), and enjoy the best products and services in the most affordable way. Celebrate National Coupon Month and start saving with CitySpoon! All Spooners will be entered in "The Great Spoon Giveaway" to win a $100 gift card!
CitySpoon is currently working on a new site design expected to debut in early October. New promotions will include an evening in Vegas complete with transportation and bottle service at a Las Vegas hotspot. Safi invites new consumers and business to join CitySpoon.com to be the first to "know what the locals know." (Users must be registered to enter.)
About CitySpoon:
CitySpoon, launched in Summer 2011, serves as a local guide for living bigger, better, and smarter by providing in-the-know recommendations, candid user reviews and expert advice for businesses and events in CitySpoon community.
CitySpoon was created as a multi-platform resource for people to save money and help businesses grow. The site offers discounts on national products consumers already know and love while providing local businesses with an affordable avenue to market their current promotions.
CitySpoon members are enthusiastic about life and the driving force behind the company. Together with a private network of local and national businesses, CitySpoon offers fun, affordable experiences. CitySpoon keeps "Spooners" connected to the most popular and unique places and products.
For more information please visit http://cityspoon.com.
Follow CitySpoon on Twitter: @CitySpoon
"Like" CitySpoon on Facebook: facebook.com/cityspoon
###